Let us help you plan the perfect sailing trip
Provide your travel details, receive free offer and enjoy your holiday!
Why Dubrovnik sailing holidays make the ideal getaway
Dubrovnik is a world-famous travel destination, and one of the most visited cities in the Mediterranean. Imposing city walls, historical landmarks, delicious local cuisine and breathtaking scenery, attract waves of tourists each year. One of Croatia's brightest symbols, this proud city has flourished throughout history, ever since the Greeks and Romans ruled the Mediterranean. The city has been a trade and political foothold in the southern Adriatic since its inception. Since 1979 Dubrovnik has been listed as a UNESCO World Heritage site since 1979. 
Although Dubrovnik is a hugely popular tourist destination with plenty of landmarks to visit, it's also the perfect starting spot for an unforgettable sailing holiday. There's a whole other world to explore once you set sail from the city and the commotion. Lush, often uninhabited, islands with plenty of secluded coves lie just a few miles away from the busy city centre. Islands such as Mljet, Korčula or Lastovo offer spectacular natural beauty, delicious food and wine, rich history and crystal-clear water. A sailing holiday around Dubrovnik and its surrounding islands provide the perfect mix of everything Croatia has to offer. 
What to expect from sailing conditions in Dubrovnik
Dubrovnik enjoys a Mediterranean climate with hot, moderately dry summers and mild winters. As is the case for most of the Adriatic, winds are moderate with a few exceptions during the winter. Waves are not big, rarely exceeding 2 m, and the tidal range is about 0.5 m. There are around 110 days of rain during the year, mostly in the winter. Thunderstorms are common throughout the year but are short-lived. With over two thirds of days in a year having sun and temperatures exceeding 30 °C during the summer, the Dubrovnik area is a perfect summer spot. 
When is the best time to sail in Dubrovnik
The best time of year to visit Dubrovnik is from April to September when there is less chance of rain or strong winds. July and August are the best months to enjoying swimming and snorkelling, with sea temperatures reaching around 25 °C. Those months are also the peak of the tourist season, and you should avoid them if you're not fond of crowds and traffic. If you want to escape the crowds and have a relaxed sailing holiday, May or September may be the perfect time for you. Sea and air temperatures might not be at their peak, but they'll still be high enough for you to have a pleasant time. Mistral winds will make sure you have plenty of sailing each day without straining you or your boat too much. Occasional thunderstorms can happen, but those can be avoided with a little bit of planning and usually last no longer than an hour.
Explore the world renowned areas of Dubrovnik
The Old Town (Stari Grad) is the part of town located inside the famous city walls. It is the oldest and most important part of the city. Here is where all the cultural festivals and events take place, with thousands of tourists overflowing the famous Stradun street and all its surrounding alleys and squares. This part of town is ideal for soaking up the culture during the day and tasting local seafood and wine at night.
Located 2.5 km from the Old Town is Lapad, a part of Dubrovnik ideal for getting away from the crowds. Here you can satisfy your everyday needs as there is a big selection of shops, restaurants and cafes. Lapad is also famous for its walking trail with plenty of beaches, including the most famous beach in Dubrovnik - the Copacabana. 
Gruž is located 2 km north of Dubrovnik city centre and is where the city port is located. Here you will find the bus terminal as well as the main marketplace in Dubrovnik, with fresh fish and seafood available daily. 
Pile is located at the west entrance of the Old Town. Historically, it served an important strategic role and was the only fort that was built outside the city walls. Today, it is one of the most traffic-congested parts of the city as it's the starting point for most bus tours. This area has several night clubs and is a popular destination for those looking for a night out.
Ploče is the eastern entrance to Dubrovnik's Old Town. There are several cafes, restaurants and nightclubs in the area, as well as a couple of beaches, including the famous Banje beach.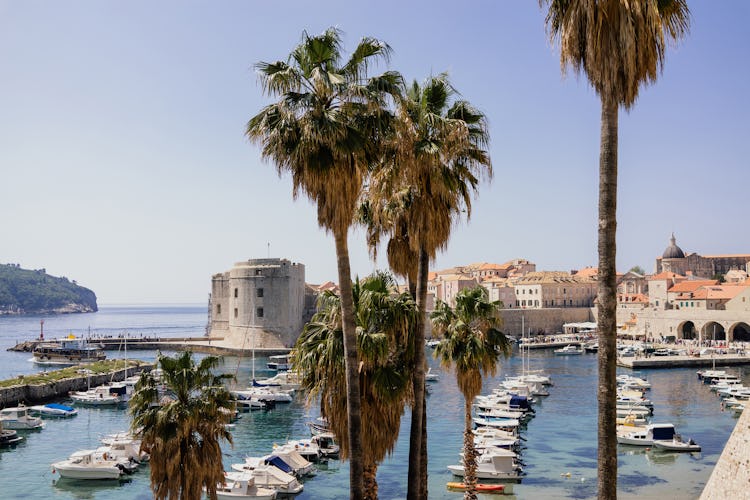 Dubrovnik sailing marinas from which to enjoy the town
There are several marinas located in and around the city of Dubrovnik, most of them open all year round.
ACI Marina Dubrovnik is located 6 km north of the city centre, at the Rijeka Dubrovačka inlet, well protected from the elements. The marina offers 380 berths and 120 dry berths with accommodation for mega yachts up to 60 m in length. The marina has extensive amenities, including charging stations for electric cars and even a golf range.
Marina Frapa Dubrovnik is a newly built marina opened in 2019, located in Gruž bay opposite the ferry port, along the coast of Lapad. The marina has 220 berths for yachts from 10 to 50 meters and can accommodate a yacht up to 100 meters. Each berth has electricity and water supply, and it's the first marina in Croatia which offers the emptying of tanks at each berth. The facilities include a spacious restaurant with two outdoor terraces overlooking Gruž, a swimming pool, and a cocktail bar. 
ACI Marina "Veljko Barbieri" Slano is the latest marina in the ACI franchise, opened in 2017. The marina boasts 193 berths and can accommodate yachts up to 25 m in length. This modern marina will accommodate most of your needs and is a perfect starting point for exploring the nearby Elaphite Islands.   
Our favourite places to anchor around Dubrovnik
The area around the city of Dubrovnik can get crowded very fast, especially during the summer. However, the coastline and nearby islands provide dozens of ideal locations to drop anchor. Keep in mind when anchoring that most of the seabed in the area is sandy and sludgy. 
A perfect place to anchor on the island of Lopud is the Šunj bay. There you will find one of the Adriatic's most beautiful sand beaches, ideal for families with children. 
Šipan bay, on the island with the same name, is a place that provides good shelter from all winds, and has a depth up to 15 m. There is no concession and buoys are available near the restaurants.
TIha ("quiet") bay is an aptly named location for moorings and anchorages on the island of Šipan with no concession. Here you will find shelter from all winds except bura (northern wind).
Okuklje bay, located on the north coast of Mljet island towards Polače bay and Mlijest National Park Mljet. Hills surrounding Okuklje bay make it an ideal hiking destination offering spectacular views and good protection from the winds. 
Skrivena Luka (Hidden port) is another aptly named destination. Located on the island of Lastovo, the bay would be very difficult to find if it weren't for the lighthouse of Struga. The bay offers excellent protection against all winds and anchoring is possible at depths between 5 and 10 meters. Also in front of the local restaurant you can find a 30 m long pontoon and several buoys for mooring. In front of the local restaurant you can find a 30m long pontoon and several buoys for mooring.
What to expect from Dubrovnik charter prices
Due to high popularity and demand, prices for chartering a boat in the Dubrovnik area are, on average, above those in the rest of Croatia. Booking your charter months or even a year in advance can significantly reduce your price. Keep in mind that the summer months of July and August are the peak of the tourist season, meaning charter prices can sometimes be double or even triple the off-season. The warm climate around Dubrovnik means charter season extends well into spring and autumn. 
Prices for chartering a sailboat at the beginning of May sit around 2.000 € per week, while prices for chartering catamarans or motorboats can be double or triple that amount. Keep in mind that several additional costs are not included in those prices such as mooring fees and transit log (cleaning service).
Let us help you plan the perfect sailing trip
Provide your travel details, receive free offer and enjoy your holiday!