Let us help you plan the perfect sailing trip
Provide your travel details, receive free offer and enjoy your holiday!
Explore the beautiful island of Hvar Croatia with its rich history
Hvar is a Croatian island that has a reputation for being the sunniest place in Europe. Hvar is also the name of one of the towns on the island of Hvar. It is the perfect destination for those seeking an escape from their daily lives. The beautiful island is truly unforgettable. You can find small fishing villages, vineyards and the smell of lavender flowing above the crystal clear blue water.  Some call it the Croatian St Tropez as it has been attracting celebrities and socialites since the 19th century. Beyonce and Jay Z even conceived their first born son sailing around Hvar. They named him after the Blue Ivy, a plant that grows on the island.  
There is also another royal who considered Hvar a piece of heaven on earth, Sisi, the famous Austro-Hungarian princess. She came to Hvar to rest from the vibrant Vienna social life. Croatian islands have long been a favourite destination for the Austro-Hungarian nobility. With mild winters and an abundance of sun during summer, anyone who was important made a trip to the Croatian seaside at least once a year.  They didn't come just for the sun and the sea though – the oldest public theatre in Europe is in Hvar (1612). A testament to the type of people who lived and visited Hvar centuries ago.
Hvar Town, although lovely, is not the only thing to see in Hvar. If you are into more of a local atmosphere far away from crowds head to Stari Grad Hvar, a small port city on the other side of the island facing Split. To get there, head inland across the island. On your way you will pass the famous lavender fields that produce Hvar's most famous souvenirs, all things lavender; pads, oils, candles, etc... If you go by boat on the other hand, you will sail past lush, green vineyards that run down to the blue sea from the steep Hvar hills. The island has specific wind and water conditions that help to produce some of the best wine in Croatia. Bogdanuša, darnekuša, parč, kuč and pošip are some of the most famous local varieties.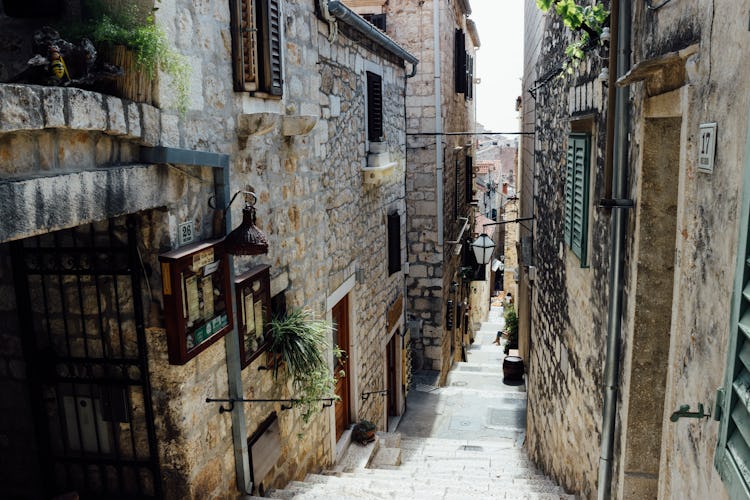 A typical street in Hvar
Our top things to do on the island of Hvar
Discover Croatia's first civilisation
Hvar's main port of Stari Grad Hvar is also the oldest town in Croatia. Here the Greeks settled from 384BC.  They named the community around this safe harbour Pharos from where the name Hvar comes from.
Sample local Hvar wines
Croatia is becoming more recognized for its wine each year. The island of Hvar has many wineries that are famous for different types of wine. Whether you choose red wine with accents of berries or a white wine made from indigenous special white grapes, you can't go wrong.
Eat some traditional food
While on the island of Hvar, make sure to get some fresh seafood especially mussels and calamari. If seafood doesn't suit your tastes, get yourself a burek. Burek is a flaky pastry filled with either meat, spinach and feta cheese, or just cheese. All combinations are delicious and will definitely leave you wanting more!
Buy a Lavender souvenir
Hvar's second name is the Lavender island because of its many lavender fields. These fields are at their most beautiful in July and you can get a scent of lavender everywhere you go. If you miss the fields in their prime, you can buy lavender containing souvenirs such as soaps, scented oils, and scented pouches. There is also a lavender flavored ice cream that is definitely worth a try.
Visit an abandoned village
There is a beautiful abandoned village not far outside Hvar Town called Malo Grablje. This village is now an ethno village, and a great place to visit away from the constant movement in Hvar Town.
A second abandoned village to visit further from Hvar Town but even quieter is Humac. You may even get the whole place to yourself so be sure to make the most of it. Humac makes the perfect backdrop for pictures, and gives you a peek into early Croatian life. Make sure to keep an eye out for the friendly cats, there are plenty around!
Explore historic sea wrecks
For those eager to explore the underwater world around Hvar, you will find a number of diving centers. They offer a wide range of scuba services, diving schools, dive excursions and scuba equipment for hire. Most of the diving spots are found around the archipelago of Pakleni Islands (Hell Islands). You can explore Vodnjak, Vela Garska, Stambedar, The Wrack, Poseidon Pillar, Anchor Wall, and Baba Reef. For beginners it is better to go for one of several less challenging diving spots.
Visit Pakleni Islands (Hell Islands)
Hvar is also blessed with one of the most beautiful places on the planet, the Pakleni Islands. Heaven or Hell though? According to some, the origin of the word Pakleni comes from 'pakao', or 'hell'.  Others say it owes its etymology to the word 'paklina', the pine resin once used for shipbuilding. Whatever the truth is, it's the perfect place to explore. The largest island in the Pakleni group is Palmižana. Palmižana is known for its Meneghello Place, a rich tropical garden. It consists of a one hundred year old pine forest, exotic trees with beautiful flowers, fragrant and aromatic bushes, palm trees, yuccas, agaves, aloes, etc... Because of its beauty, Paklinski archipelago is now a protected nature park.
Swim in the Crystal Clear Adriatic Sea
To enjoy a holiday in Hvar, you have to, at some point, become one with the sea. The crystal clear Adriatic makes you feel at ease and lets you see its full depth. People often say that the Hvar has the most beautiful water in Croatia. The sea temperature is warm enough to bathe in for hours, and cool enough to soak up the sun. 
Go for a day trip to Blue and Green cave
Blue cave is actually located on the small island of Biševo in a bay called Balun. In croatian Balun means ball. You can visit both Blue and Green cave from Hvar with tours led by local guides that can tell you all about the caves. The cave appears a beautiful blue because of the light that reflects off the surface and fills the cave.
Discover the picture perfect Hvar town
Hvar is an ancient holiday town, on the island of Hvar, with a rich history. Many people say that Hvar is a fairy-tale town due to its beautiful architecture and nature. From the sea, you get the sight of a promenade lined with palm trees and walls seven centuries' old. It is all protected by a fortresses that extends down to the town and to the Venetian loggia. 
See the sites of Hvar town:
Hvar Fortress, Fortica (Spanjola)
This fort was built by the Venetians in the 16th century. It was restored in 1579 to reveal a complex system of rooms, towers, a chapel, a dungeon and a bunch of corridors. This fortress is especially interesting for kids! 
St Stephen cathedral
A 16th century Renaissance cathedral surrounded by a square with the same name. It is the largest square in Dalmatia and has been there since Hvar was placed under Venetian rule. 
The French fort 
Built by Napoleon's army, The French fort is located on a small hill above Hvar town. It is located above the Spanish fortress (Španjola, Fortica) and offers great views of Hvar town and Pakleni islands. A great place to take a selfie!
Hanibal Lucić Summer Residence
A restored villa of one of Croatia's greatest poets, Hanibal Lucić, who produced the first drama written in Croatian, La Schiava. The residence also contains the Natural History Cabinet of Doctor Bučić. An unusual collector of preserved plants, fossils, photos and old books.
Benedictine Monastery
The benedictines of Hvar became experts in creating fabric from agave leaves. You can also see the detailed lace they made here.
Franciscan Monastery
This 15th-century monastery is about a 5-minute walk away from Riva. It's recognisable because of its high bell tower.  According to the legend, it was constructed by a Venetian naval officer who escaped from a shipwreck. 
Don't miss Jelsa Hvar
The town Jelsa stands in the middle of the island of Hvar and welcomes travellers from all around the world. Jelsa is surrounded by the two highest mountains on Hvar, in the west St. Nikola, and in the east Hum. If you wake up early, you should have your first cup of coffee at the village square with its recognizable style. For lunch or dinner, you can go to the nearby village Pitve, located just above Jelsa, known for its seafood. If you prefer walking, visit Pelago', a restaurant in Jelsa, a place with an interesting twist to Mediterranean cooking. Nightlife in Jelsa flows from Tarantela bar to Tabu lounge bar, known for its wide selection of homemade brandies (rakija). After that, try cocktails in Villa Verde. At dawn dance in the nearby Dgigibaoo club.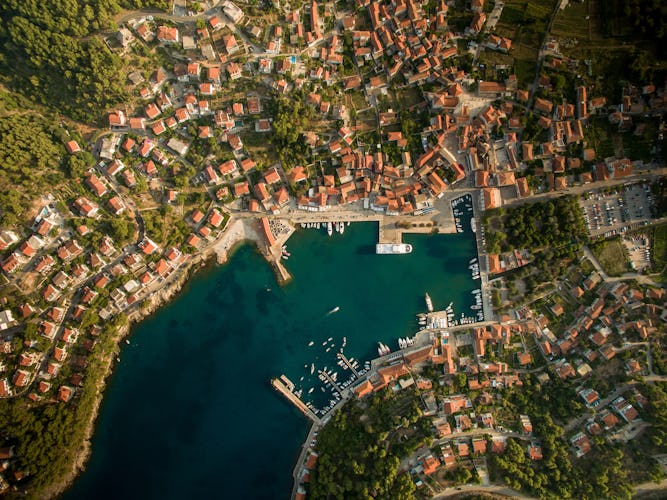 Arial view of Jelsa
Restaurants in Hvar you should definitely explore
Macondo - Fresh seafood and sea dishes. Famous for its gregada dish- a local stew made with sea bass, onions, garlic, potatoes, and wine. Macondo is one of the best local restaurants in Hvar.
Konoba Menego - A family owned restaurant in the ancient part of Hvar. The tavern specializes in traditional Croatian cuisine, with an emphasis on that from the Dalmatian region.
Dalmatino - A family owned steak and fish restaurant. Dalmatino's local gregada fish stew or pašticada. Pašticada is a traditional Dalmatian stewed beef dish, cooked in a special sauce.
Lungo Mare - Not only famous for its seafood but also for desserts like rožatac. Lungo Mare's terrace lined with the shells makes for a great setting.
Hvar's best beaches to soak in the sun
Mekicevica - Situated near Hvar town, 2.5 km to the east. Made of 2 pebble beaches and a white stone shore, it is ideal for those who want to feel all of Hvar's sun on their skin. You can get there walking or by boat.
Milna - The small village Milna is 4 km east of Hvar town. There are 2 pebble beaches and a pine forest with vineyards. Along the bay you can see another two pine forests, "Malo Borce" and "Veliko Borce". Milna is one of the oldest getaways of Hvar town. Here you can find an old mansion from the 17th century that shows its rural value.
Zaraće - Under the abandoned village of Zaraće you can find a beautiful pebble beach. For the lovers of underwater sea life this is the place to be. There are several restaurants here and you can get there by car or boat.
Dubovica - This favorite Hvar excursion spot for many is around 8 km east of Hvar town. It has a large pebble beach and is known for its wonderful underwater areas. Like Milna, Dubovica also has a long "getaway" tradition.
Pišćena - Pišćena is 8km east from the city of Hvar. With a pebble beach and thick pine forest this is a beautiful getaway location. Daily trips are organised from Hvar harbour.
Sveta Nedjelja - This settlement and excursion spot is 12 km away from Hvar to the east. If you plan to visit, car is the best option. There are nice beaches along the shore as well as some restaurants. 
Jagodna (Bojanića Bad) - This is a little more of an excursion as it's 13 km to the east of Hvar, but it is definitely worth it. There are several restaurants and it's possible to get there by car.
Top beaches in Stari Grad
Several hundred meters from the center of town, there are 2 city beaches you can walk to.
Banj - This pebble beach is perfect for families with small children. You can rent sunbeds and it has great restaurants.
Lanterna - On the south side of Stari Grad bay there is a beach called Lanterna. It's a small pebble beach with steps for entering the sea. There are restaurants, showers, sunbeds and locker rooms.
Maslinica Bay - The Maslinica bay is 2 km away from the center and you can find it near the Stari Grad ferry harbour. It is the only sandy beach in the Stari Grad area you can get to by car. There is a car park nearby. You can travel by car or boat to the rest of the smaller bays around Stari Grad. You can also take a taxi boat which will transfer you wherever you want.
Our favourite beaches in Jelsa
Mina - Mina is a sandy bay which is about 500m from the center of Jelsa. Perfect for families with children.
Grebišće - Grebišče is a sandy beach bay about 1.5 km away from Jelsa. It comprises 2 bays, "Velo Grebišće" and "Malo Grebisce".
St. Luka's Bay - St. Luka bay is a pebble beach, 4km east of Jelsa. Around the small church of St Luka, found on the cape of the bay, you will find yourself in an archeological hotspot dating back to Roman times.
Beaches in Vrboska
Soline - This peninsula has pebble beaches on the south side, and flat stones on the north side.
Hvar bars and nightlife not to be missed
Hvar bars to watch the sunset from
Hvar has an international party pedigree and has kept it alive for decades. Having plenty of bars and clubs sure helps! Some of the bars you could visit are:
Carpe Diem
Hula Hula Hvar
Pink Champagne Hvar
Wine bar 3 Pršuta"
Kiva bar
Falko
Hvar clubs to welcome the sunrise in
Hvar holidays wouldn't be the same without the Hvar nightlife scene. Hvar Island nightlife is mostly all about the exciting Hvar Town, a town that never sleeps. At least not from June to September. Nightlife in Hvar is one of the richest across the Adriatic sea. You'll have so many options, the parties are to die for and you'll never get bored. Some of the clubs you could visit:
Carpe Diem - Carpe Diem is a bar, a club and whatever else you need during your summer holiday in Hvar. It was opened in 1999 and is still one of the most famous hangout places for the yachting fraternity. To experience the luxury side of Hvar, Carpe Diem is the town's hotspot located right at the harbor. Its open-air seafront terrace allows a breathtaking sea view hidden behind the palm trees. Celebrate life with a glass of nice wine, champagne or a freshly made cocktail while at Carpe Diem. It will make you wonder why you haven't come before? It is the perfect place to start, but also to end a day with a stunning view accompanied with excellent music.
Carpe Diem Beach - A summer beach club in Stipanska bay that hosts parties through July and August. It is reachable by taxi boats from Hvar Town. Enjoy the tropical cocktails in the pine forest. Here you can play beach volleyball and enjoy the breathtaking view over the Adriatic sea.
Veneranda - A lovely bar situated within the walls of a once upon a time monastery. Enriched with a pool and dance floor. Electronic music will be blasting while the terrace reveals an amazing sunrise view.
Hula Hula - A 15-minute walk west of the center of town, on the seaside path between hotels Amfora and Podstine. It is a rustic wooden beach bar with fantastic sunset views and chill-out music.
Kiva bar - For all the rockers out there, Kiva bar is your new go-to place. Their specialty is 'tequila dum dum'.
Where to stay in Hvar
There are plenty of options for hotels, villas and apartments in Hvar
Hvar town hotels:
Palace Elisabeth, Hvar Heritage Hotel
Heraclea House
Riva Hvar Yacht Harbour Hotel
Amfora Hvar Grand Beach Resort
Adriana Spa Hotel
Villa Dalmacija
Pharos Bayhill Hotel
Palmizana Hotel
Heritage Villa Apolon
Little Green Bay
Jelsa Hotels:
Hotel Fontana
Adriatiq Resort Fontana Deluxe
Vrboska Hotels:
Senses resort
Villa welcome
Milna Hotels: 
Stari Grad Hotels:
Villa Harpcrates Hvar
B&B Heritage Villa Apolon
Apartments Roic
Hotel Arkada
Zastražišće Hotels:
Zavala Hotels:
Villa Stella Mare
Hotel Skalinada
Let us help you plan the perfect sailing trip
Provide your travel details, receive free offer and enjoy your holiday!