Let us help you plan the perfect sailing trip
Provide your travel details, receive free offer and enjoy your holiday!
Kornati islands are Mother Nature's true masterpiece. They consist of 140 uninhabited islands, islets and reefs covering over 300 square kilometres. The Kornati archipelago is the largest and densest in the Adriatic sea. Kornati National Park makes up most of the Kornati archipelago with its 89 islands spreading over a 220 square kilometre area. The Kornati island tour is among the most praised tours in Croatia. Kornati's marina has been a regular destination for nautical aficionados since the early 1970s. As a result is has become a regatta centre of Northern Dalmatia.
Take in the unspoilt Kornati National Park
Kornati Islands National Park was founded in 1980. The eighty-nine southernmost of the 140 odd islands, islets and reefs of the Kornati archipelago make up the National Park. It has been protected as a heritage sight ever since. The national park makes up the majority of islands located in the Central Dalmatian area of the Adriatic, just west of the city of Šibenik. The goal was to fully protect the islands and their marine surroundings which was achieved with the declaration of the national park. Kornati National Park's natural beauty and cultural heritage make it one of the most unique and destinations in Croatia.
The crowns of Kornati are a highlight of Kornati National Park. They represent a large tectonic fault surface that extends from the Istrian peninsula to somewhere in the middle of Dalmatia.  They are known as home to some of the most fascinating organisms such as peregrine falcon, cormorant, swift, and a plant community of centaurea ragusina. Kornat, the biggest of the islands with a total area of 32.44 square kilometres (12.53 square miles), comprises two-thirds of the park's land area. Although the island is 25.2 kilometres (15.7 mi) long, it is no wider than 2.5 km (2 mi). In addition to sea-gulls, there are lizards, ring-snakes, 69 varieties of butterfly, some amphibians and rodents. When it comes to marine life, the Kornati islands are typical of the Adriatic and the Mediterranean. However, due to the underwater relief, streams and special characteristics of the sea in this labyrinth, there are also some peculiarities: algae, coral and sponges. At certain points in the past, the sea around Kornati Islands was the richest in the Adriatic for sponge hunters. The rare mollusc Pinna Nobilis for example lives in Kornati and is protected by law. 
Both the sea and the land are protected under Kornati National Park. Fishing is restricted to allow the regeneration of fish shoals that were severely over-fished in the past. Legend has it that the Mediterranean monk seal (Monachus albiventur) once lived among these islands. The name of the southernmost point on Vela Kurka, Mendo, is linked to this almost extinct species. 
Vegetation on the islands is very sparse. There have been 200 known varieties of Mediterranean plants, but they have for the most part disappeared. The most common plant is a tough variety of grass, but there are also many scented and medicinal herbs such as sage, feather grass and Xeranthemum. They give a fragrant spring, and during the year provide the best forage for bees. Olive trees account for about 80% of the cultivated land, followed by vineyards, figs, orchards and vegetable gardens. It is thought that the Kornati islands were once covered with forests of Mediterranean holm oaks, Quercus ilex. However as open fires demanded a great deal of wood, the forests were slowly destroyed; the sole remnants can be found by the bay of Telašćica.
Stop at one of the magnificent beaches of the Kornati Archipelago 
Some of the most important sights and islands that form Kornati archipelago are:
Shallow channel Mala Proversa
Oval-shaped Taljurič island
Špinuta Bay
Stivina Bay
The fourth largest island Levrnaka
The second largest karst rock-area Tarac
Svršata Vela island
Mana island, Piškera island
Panitula Vela island
picturesque Lavsa Bay
resort island Ravni Žakan
Smokvica Vela island
Opat peninsula
Samograd island
Purara reserve for marine life
Vrgada and Gangarol islands
Kornati islands are mostly made of karst-limestone which, in the distant geological past, arose from sea sediment. In the stone you can find fossils of crustaceans and fish. Around Kornati there are also examples of all the typical forms of karst. You can find bizarre shapes formed by the atmosphere, unexplored caves, areas of flat rock and cliffs. Karst rock is porous, rapidly draining and dry. As a result Kornati islands are as well.
The Kornati Islands are located between two very different meteorological areas. The northern Adriatic is under the influence of Genua depressions in spring and autumn. The southern Adriatic  is affected by the subtropical high pressure belt during the summer.
Why there aren't many Kornati Hotels
There aren't very many hotels in Kornati and the Kornati Islands area due to its protected status. The main exceptions are a four star Hotel Kornati Biograd and a three star Hotel Murter. On the other hand you can find a large variety of other accommodation types such as villas, cottages and various apartments.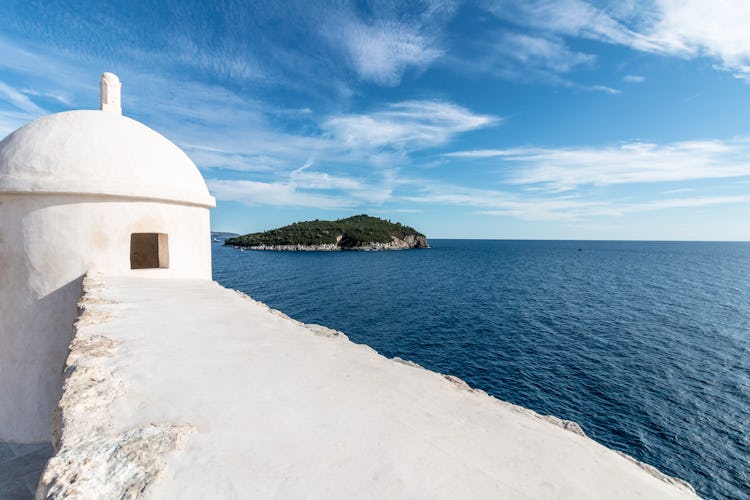 View from one island to the next in Kornati national park
Some of our favourite restaurants in Kornati
What makes food from Kornati so special? Kornati's culinary strengths lie in its simplicity and organic approach. Local recipes are passed from one generation to another and kept within each and every family with great pride. The food is low-fat, moderately spicy, extremely healthy. If food is the key to your heart, you will  fall in love with restaurants in Kornati. There are a wide variety of restaurants in Kornati, from fine dining establishments to more affordable options.
Konoba Zakan is a staple for everyone visiting Otocic Ravni Zakan
Restoran Festa in Golubovac Bay Kornati is another restaurant for those who want a true fine dining experience
Konoba Levrnaka or Konoba Soleta If you're looking for something more moderately priced
Things to do in Kornati National Park
There are certain parts of the national park that are under special protection. As a result there are zones you can't visit without special permissions, and there are designated areas visitors can walk and hike. These are marked and easy to see. 
To dive in Kornati you need to get a special permit before you go diving. Individual diving outside an approved group isn't allowed. Night time diving from 7PM to 7AM is also not allowed. Except for a dive knife, divers aren't allowed to carry any kind of weapons or tools. The maximum allowed depth is 40 meters.
Recreational fishing is allowed, but with a permit only. Permits are obtained through Kornati National Park offices in Murter. 
Besides diving and fishing, a great way to explore the area is to hop in a little boat and cruise around the islands as the sun sets.
What to expect from nightlife and bars in Kornati
There isn't much nightlife in Kornati. Visitors go to Kornati to experience its natural beauty, rather than party the night away. The best thing to do is enjoy a beautiful dinner in what locals call a konoba. A konoba is a local tavern. Here you can possibly catch some elderly locals playing cards or maybe chess. Sit down, relax, have a glass of wine and join them!
Let us help you plan the perfect sailing trip
Provide your travel details, receive free offer and enjoy your holiday!