Let us help you plan the perfect sailing trip
Provide your travel details, receive free offer and enjoy your holiday!
A brief introduction to Sukošan 
Sukošan is a small Croatian coastal town located in the Zlatna Luka bay, some 10 km southeast from the city of Zadar. This quaint Dalmatian town with a population of only 3,000 has a rich tourism history, which has been growing since the 1920s. Similar to most towns on the Adriatic, Sukošan boasts a rich history, spanning back to the ancient Romans. There are several well-preserved churches worth visiting, as well as the remains of old city gates and walls. Sukošan also makes an ideal starting base for you sailing holiday due to its proximity to several National Parks like the National Park Kornati, National Park Paklenica, Plitvice Lakes National Park and nature parks Telaščica. For those looking for more culture, historical cities of Zadar and Šibenik are a short car ride away. Sukošan is also home to one of the biggest marinas on the Croatian side of the Adriatic, the Marina Dalmacija. The marina offers 1,200 berths and 500 dry berths, and it even has its own private beach.   
The best way to get to Sukošan
The fastest and easiest way to reach the town of Sukošan is flying to Zadar Airport which is located only 11 km north of the town. There are plenty of direct flights to Zadar from all across Europe, as well as several connecting flights from Zagreb. Sukošan can also be reached by bus or train with daily departures from Zagreb and Split. For those travelling by car, Sukošan is connected to the highway network, and driving from Zagreb will take about three and a half hours.      
Sukošan itinerary options not to be missed
Located in central Dalmatia, in close vicinity of some of Croatia's most popular holiday destinations, Sukošan makes an ideal starting base for your sailing vacation. Explore the coast and islands of central Dalmatia or set sail for a grand tour of the Croatian coast, the choice is yours!
Option 1- The northern route
Total sail distance: 105 NM
Things to see and do: This route for those wanting to visit both busy tourist hotspots as well as lesser-known and untouched islands. Enjoy the culture in the city of Zadar and experience the nightlife of the island of Pag. Discover the untouched beauty of islands Silba and Molat. 
This route is perfect for: Groups of friends looking to experience the nightlife on the Croatian coast, families wanting to relax on some of Croatia's best beaches, and sailing enthusiasts wishing to explore the islands of central Dalmatia.    
Best time of year for sailing: From early May until the end of September
Day 1: Ugljan
The island of Ugljan is the first stop as you set sail from Sukošan. As you approach the island, a choice is presented to you: sail along the northern shore of the island and visit all the popular destinations like Kali and Preko or get away from the crowds and sail along the uninhabited southern shores. For those looking for an adventure, the island of Pašman has over 60 km of coastal bike paths. 
Day 2: Zadar
Zadar is one of the biggest Croatian coastal cities with a rich and interesting history. Here you can spend all day roaming through the cobbled city streets, discovering impressive cultural and historical monuments. As the sun sets, enjoy fine dining in one of many restaurants before you hit the dance floor in some of the best nightclubs on the Croatian coast.  
Day 3: Vir
The small island of Vir is a trendy destination located just north of the city of Zadar. There are some beautiful sand and pebble beaches on the island which can get quite crowded during the peak tourist season. Be sure to take a second and enjoy the sunset while you're here; it tends to be spectacular.
Day 4: Pag
The town of Novalja is located in a small bay on the northwestern part of the island of Pag. The popularity of the nearby Zrće beach and its bustling nightlife has transformed Novalja into a busy and crowded little town that practically never sleeps. If you are looking for something more than clubbing, the island of Pag is famous for its production of cheese and olive oil so be sure to try them.  
Day 5: Lošinj
Sailing west from Pag will land you at the island of Lošinj, a luscious island filled with beautiful beaches, intoxicating smells and plenty of sunshine. The town of Mali Lošinj is located in the Lošinj bay, on the eastern side of the island. Mali Lošinj is the biggest island settlement in Croatia, with an impressive number of hotels and resorts. The marina in Mali Lošinj is a modern one and offers spectacular views of the Lošinj bay and the old town centre.
Day 6: Silba
The island of Silba is situated southeast of Island Losinj, between the neighbouring islands of Olib in the east and Premuda in the west. This small island is full of Mediterranean vegetation and aromatic herbs, untouched by roads or cars. Despite the seclusion, the island has a grocery store, post office and several cafes and restaurants. Silba is the ideal place to clear your mind and relax on some beautiful sand beaches, away from the crowds.  
Day 7: Molat, Sestrunj
As you set sail towards Sukošan, be sure to stop at the islands of Molat and Sestrunj. These two sparsely populated islands are perfect stops to enjoy untouched nature and crystal clear sea. We recommend anchoring at the northeastern coast of Molat island, which is mostly low and indented with numerous coves.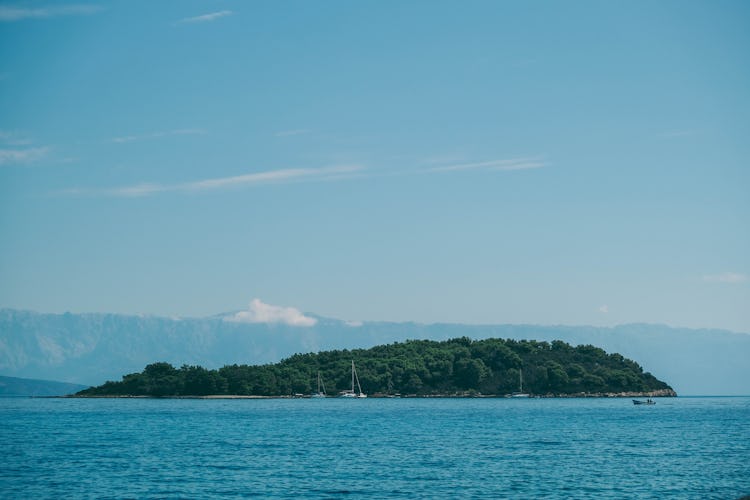 Option 2 - Beautiful Kornati
Total sail distance: 90 NM
Things to see and do: Discover the beauty of the famous Kornati National Park, as well as some other popular destinations in central Dalmatia like Šibenik and Murter. 
 This route is perfect for: Families looking to experience the beauty of Croatia's islands and coastline, friends looking for a well-rounded sailing trip and sailing enthusiasts wanting to visit one of the most popular sailing destinations on the Adriatic.
Best time of year for sailing: From late April until the end of September.
Day 1: Pašman
As you leave Sukošan, be sure to make a stop in one of many beautiful coves located on the northern shore of the island of Pašman. The settlement of Ždrelac is an attractive destination for yachtsmen and water sport enthusiasts. Here you will attract views from onlookers crossing the 210 m long bridge which connects the islands of Ugljan and Pašman. The spacious cove next to the bridge is an anchoring spot for many yachts travelling from the mainland to neighbouring islands. 
Day 2: Dugi otok
Dugi otok is a prime example of a place where these two opposites are most evident. Picturesque villages and secluded beaches collide with majestic cliffs and lush vegetation.
Nature Park Telašćica is located on the southeastern part of the island and is one of the most beautiful nature parks in all of Croatia. Dugi otok has always been an attractive destination for all sailing enthusiasts visiting this part of the Adriatic. Mooring can easily be arranged In Sali or Bribinj if you call ahead.
Day 3: Kornati
As you approach the Kornati archipelago, you will understand why it is often described as the "nautical paradise". This cluster of some 100 islands and islets offers a stunning combination of clear blue sea, beautiful beaches and lush vegetation. It is worth noting that 89 of the 140 islands of the Kornati archipelago were classified as a part of the national park in 1980 and there is an admission price for all vessels entering the national park area. 
Day 4: Murter
Following the stunning visuals of the Kornati National Park, visiting the town of Tisno on the island of Murter is a return back to civilization. There is a small drawbridge in the middle of the town, connecting the mainland with the island of Murter. In the last few years, Tisno has become a popular destination among younger generations, with numerous music festivals being held at local nightclubs all summer.   
Day 5: Kaprije
Sailing south from Tisno, you will find the island of Kaprije, the largest islands of the Sibenik archipelago. This secluded island is car-free and is a perfect destination for those seeking peace and quiet. Here you can take a glimpse into the modest island life, enjoy some delicious seafood and local wine, and get lost discovering hidden coves and beaches.
Day 6: Primošten
Primosten is a small coastal town located between Šibenik and Split. Primošten is a popular destination, attracting tourists with its impressive architecture, beautiful beaches and crystal clear waters. There is almost 20 km of beaches in Primošten, with the most popular being the Velika Raduča beach. This pebble beach offers plenty of fun water activities, bars and restaurants, everything needed for a perfect day at the beach. 
Day 7: Šibenik
As you head back north towards Sukošan, be sure to stop in Šibenik, one of the underrated jewels on the Croatian shore. This historical city will surprise you with its beautiful architecture, impressive forts and a vibrant nightlife. A variety of different festivals are organized in the city every summer, offering you a chance to experience the local culture. There are several marinas located in the vicinity of the city with Marina Mandalina being the closest to the city centre. 
Option 3 - Down south
Vodice, Primošten, Drvenik, Trogir, Šolta, Brač, Split
Total sail distance: 140 NM
Things to see and do: Sailing south along the Croatian coast, visit some of the most famous Dalmatian cities and islands. A mix of busy tourist hotspots and secluded spots is ideal for all. 
This route is perfect for: Groups of friends looking for a blend of culture, fine dining and natural beauty, families wanting to enjoy the south of Croatia, and sailing enthusiasts looking to sail along the Dalmatian coast and islands.    
Best time of year for sailing: April to October.
Day 1: Vodice
Sailing south along the Croatian coast from Sukošan, you will reach the city of Vodice, located 11 km northwest of Šibenik. This small coastal town is a popular tourist destination and offers plenty of activities to its visitors. You can spend your day at one of the beautiful beaches and your evening in one of the nightclubs in and around the town. The ACI Marina Vodice is situated in the northeastern part of the Vodice harbour and is the best place for mooring. The marina is open year-round and has 290 berths and 60 dry berths. 
Day 2: Rogoznica
Next stop on your trip south along the Dalmatian coast is Rogoznica, a small town located in a well-protected bay between Šibenik and Split. Rogoznica is home to one of the most beautiful marinas in the Adriatic, the Marina Frapa, with a total of 450 berths. Marina has a total of 450 berths and is built on an artificial island. Within the complex, there is a hotel, cafes, restaurants, a sports centre, swimming pools, a nightclub.
Day 3: Drvenik Veli
Drvenik Veli is an island situated northwest of the island of Šolta. Its 24 km of coastline is famous for sand and pebble beaches with many coves and bays, ideal for sailing enthusiasts. Drvenik is the only village on the island, and there you can find a few grocery stores and restaurants. The rest of the island offers unpolluted nature with beautiful inlets and hidden bays. 
Day 4: Šolta
The island of Šolta will undoubtedly be one of the must-see destinations on your nautical chart. Spending some time in the beautiful marina in Maslinica, discovering Stomorska or sailing around the island and enjoying the beauty of its southern bays make this island irresistible to all sailing enthusiasts!
Day 5: Brač  
The island of Brač is the largest Croatian island, rich with natural beauty, tantalizing history and blessed with delicious local cuisine. The island is filled with magical bays covered with forests of cypress trees. Brač's sunny hills are covered with vineyards, producing excellent wine. Visiting Milna on the northwestern coast of the island will offer you an insight into everything this island has to offer. Milna is one of the most popular nautical destinations and offers several marinas, including the ACI Marina Milna. 
Day 6: Split
No visit to Dalmatia is complete without visiting the city of Split. Croatia's second-largest city offers something for everybody. Historical buildings like the Diocletian's Palace bear witness to the city's rich history while busy city streets are filled with cafes and restaurants offering refreshment at every step. When visiting Split, we recommend you stay at the ACI Marina Split located right next to the city centre.
Day 7: Sukošan
Leave the last day of this route for a relaxed trip back towards Sukošan. Once you safely dock, be sure to enjoy a day on one of the local beaches. Families with children will appreciate the aptly named Children's Paradise (Dječji raj) which offers shallow waters and a sandy bottom. Before you end your vacation, make sure to enjoy some local cuisine in one of the local restaurants.
Let us help you plan the perfect sailing trip
Provide your travel details, receive free offer and enjoy your holiday!