Let us help you plan the perfect sailing trip
Provide your travel details, receive free offer and enjoy your holiday!
The Greece capital of Athens is one of the oldest and most significant cities in the whole of human history. Considered the cradle of western civilisation, this magnificent city is one of the cultural capitals of the world. Believed to be over 3,400 years old, Athens lies 5 miles inland from the Aegean sea closed off by hills to the east and west. Despite not being directly coastal, Athens has one of the most important and busiest ports in Europe. Located in the Phaleron Bay, Piraeus port is the largest passenger port in Europe. Over 3 million people live in the Athens Metropolitan area today, which is nearly a third of the whole population of Greece.  
Athens Things to do
Athens is one of the most visited cities in the world, attracting over 33 million tourists in 2018. The city is a smorgasbord of cultural and historical landmarks, none more famous than the Acropolis. This ancient citadel sits on a hilltop overlooking the city, acting as a testament to the glory and importance of ancient Greece. There are several buildings at the Acropolis with Parthenon, a marvel of ancient architecture, being the most significant one.
Other impressive architectural sites scattered around Athens include the Theatre of Dionysus, Roman Agora, Panathenaic Stadium or the Temple of Olympian Zeus.
After visiting the Acropolis, be sure to visit the New Acropolis Museum as well, a newly built museum showcasing over 4,000 exhibits.
For those wanting to experience more of Athens' history and culture, head to one of the multiple museums in the city. Byzantine and Christian Museum offers a massive display of Greek Orthodox Christianity art. Benaki Museum houses over 120,000 works of art showcasing Greek culture throughout history. The National Archaeological Museum displays artefacts dating back to the Neolithic Age.  
When you finish soaking up the culture and history, head on down to Monastiraki for a bit of shopping. This Athenian neighbourhood transforms into a vast flea market during the weekends as vendors come alive into a symphony of bartering and haggling.
Plaka District sits just under the Acropolis and is one of the most popular destinations in Athens. This charming neighbourhood is a perfect place to take a breather and experience delicious Greek cuisine, with plenty of restaurants and cafes at your disposal.   
Where to stay in Athens
Given that Athens is one of Europe's top destinations, there are plenty of hotels, hostels, inns and B&Bs to choose from. Hotels Grande Bretagne and King George are located on the Syntagma square and offer extensive amenities with all of the city's main attractions a walking distance away. Located in beautiful neighbourhoods of Plaka and Kolonaki, hotels like AthensWas, Coco-Mat, New Hotel or Electra Palace all offer luxury and comfort. They are close to the city's most popular attractions. For those with a more limited budget, Athens offers a plethora of hostels, boutique hotels and B&Bs around the city centre. 
Athens beaches
Athens is a bustling metropolis, often crowded with tourists and accompanying traffic. Yet, there are plenty of places around the city where one can enjoy a day on the Aegean sea. 
Vouliagmeni, the southern suburb of Athens, is home to several beautiful beaches, most famous being the Astir beach and Kavour. These sandy beaches offer crystal clear sea and plenty of amenities but can get quite crowded, especially on weekends.
Located in the Voula suburb, Thalassea is a sandy beach popular among locals with plenty of events and concerts organised there every week.
The closest beach to the city centre is Edem, another sandy beach popular among locals. The beach is adjacent to the seafront promenade, offering a lovely walk along the coast, and is easily reachable from downtown Athens by tram.
Yabanaki beach has plenty of water-based attractions and services. An ideal destination for families with children and those looking for a more active day out.   
Athens weather
Athens enjoys a warm Mediterranean climate, with mild winters and dry and hot summers.
Visiting Athens in the middle of summer can prove to be challenging as the heat on the city streets tends to get quite intense. A cool northern wind can provide brief refreshment in the afternoon. There are not many rainy days in Athens, especially in the summer. During the summer, the rainfall months mostly occur during thunderstorms, usually once or twice a month.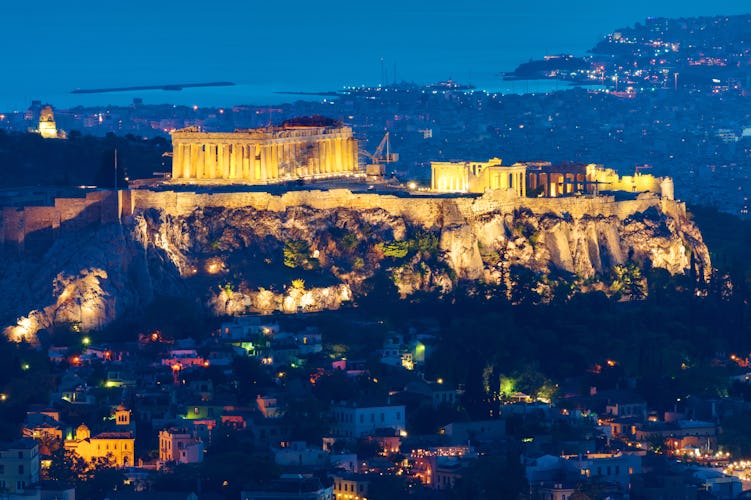 Best time to visit Athens
Summers in Athens can get very hot, so to miss the peak summer heat, you could visit either during the spring or autumn. Average temperatures in both May and October sits around 20 °C, making it the perfect weather for exploring the city. 
Athens nightlife
The city of Athens offers a vibrant nightlife, filled by various unique places where you can enjoy a good cocktail or dance the night away. There are several areas of the city which one should visit, all offering something different and exciting.
Probably the most popular neighbourhood for partying in Athens is Gazi. Filled with big and flashy nightclubs, this formerly industrial part of the city has been transformed into the entertainment hub of the city. 
Psyrri is a trendy neighbourhood where you'll find countless bars and a few extravagant nightclubs.
Around the Monastiraki area, near the city centre, several exciting clubs and bars await your visit.
If you are looking for a place to enjoy a relaxing coffee or a glass of wine, Athens offers many rooftop bars with beautiful views of the city and the Acropolis.
Athens restaurants
Greek cuisine is world-famous and offers both high-end culinary delights as well as finger-licking good street food. Depending on the experience you seek, Athens offers the best of both worlds. 
For those craving traditional Greek food, the Plaka neighbourhood has plenty of charming restaurants and taverns where you can indulge yourself.
Despite having many hotels and high-end restaurants, Monastiraki neighbourhood is the place to go if you are craving gyros or souvlaki, traditional Greek meat dishes.
Psirri is another area of Athens filled with smaller restaurants, bars and bakeries. If you look a bit closer, there are several hidden gems nestled in this neighbourhood, offering truly delicious local cuisine.
Athens marinas
Athens Marina is situated only 9 km away from the city centre of Athens and only 40 km away from the Athens international airport. This modern marina for yachts offers extensive amenities and good traffic connection. 
Zea Marina is located in Piraeus, only 11 km away from Athens city centre. The marina was renovated recently and offers a huge selection of services and amenities. Marina has a berth capacity of 670 and can support vessels with a draft of up to 8m. 
Located in Piraeus, only 6 km away from the city centre, Flisvos Marina enables you quick access to major local attractions. This is considered a top international marina, offering berths for mega and superyachts. The marina has a capacity of 303 berths and can accommodate vessels up to 70 m in lengths and max draught of up to 9 m.
Let us help you plan the perfect sailing trip
Provide your travel details, receive free offer and enjoy your holiday!