Let us help you plan the perfect sailing trip
Provide your travel details, receive free offer and enjoy your holiday!
Cannigione - the Costa Smeralda gem
Located in the northeastern part of the Italian island of Sardinia, Cannigione is one of the districts of the town of Arzachena and a popular tourist resort. Cannigione sits about 20 km north of the town of Olbia and 9 km west of Porto Cervo. Known as an important fishing village at the turn of the 20th century, Cannigione has transformed into one of the most popular tourist destinations in Sardinia today. Situated in a deep inlet, at the mouth of the San Giovanni river, the area around Cannigione is full of secluded coves housing beautiful sandy beaches. The village of Canniogione boasts a large and well-protected port, making it one of the top sailing destinations in Sardinia. 
Dive into Cannigione bay
The small seaside village of Cannigione is one of the most popular tourist destinations in Sardinia, home to some of the best beaches on the Costa Smeralda, several modern marinas, and a handful of boutique hotels. It has lately become a hugely popular spot for snorkelling and scuba diving with several recently opened diving centres in the area. Featuring crystal clear waters and dozens of stunning sandy beaches, Cannigione is the ideal summer destination, offering plenty of entertainment for everyone. You will find the village's promenade right next to the stunning beach, where one can relax and unwind in one of the several beach bars and restaurants.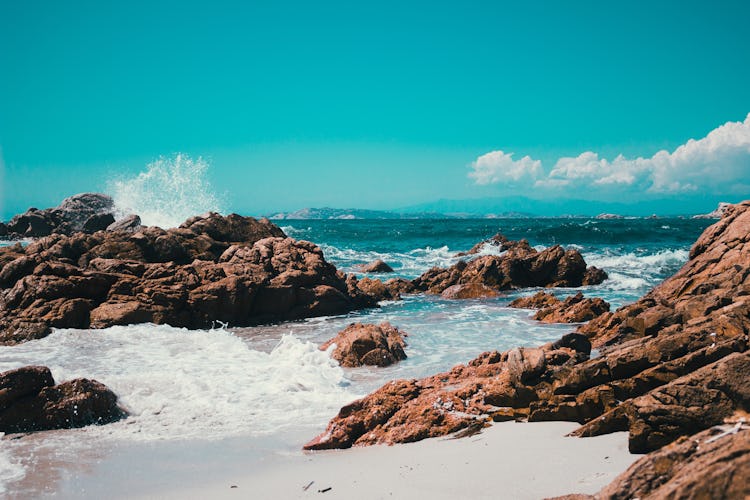 White beach in the Maddalena archipelago
Scuba diving on Costa Smeralda
One of the most popular activities to do in Cannigione is scuba diving and snorkelling. The beautiful and pristine Mediterranean sea offers stunning visuals and an untouched underwater world. The Areamare Diving Center provides lessons for both advanced divers and beginners and organises trips to 30 different dive sites in the surrounding area. 
A stroll through Arzachena town
The town of Arzachena is situated less than ten kilometres from the village and offers a charming island atmosphere which embodies the style of the Costa Smeralda. Here you will find beautiful architecture with pink granite and white stones, reminiscent of the architecture found on some Greek islands. Arzachena offers plenty of cafes, restaurants, clubs and boutiques, perfect for sampling Sardinian delicacies and doing some souvenir shopping. 
Maddalena Archipelago National Park
Another popular attraction in Cannigione is the daily excursion to the Maddalena Archipelago National Park, a geo-marine national park off the coast of Sardinia. The park was established in 1994 and covers an area on land and sea of over 12,000 hectares, consisting of 180 km of coast. 
Charming Cannigione hotels
The coastal village of Cannigione has exploded into a tourist hotspot over the years, increasing its accommodation options each year. Here you will find a wide selection of hotels spanning from luxury five-star hotels to charming little boutique hotels. 
Grand Hotel Cannigione - is a five-star hotel located some 600 m from Cannigione's main beach and modern marina. This recently opened stylish hotel offers 52 rooms on three floors with balconies overlooking the Gulf of Arzachena and direct access to the pool. Amenities include a stylish restaurant, a pool-side bar, a wellness centre and a fitness area.
Blu Hotel laconia Village - is a recently renovated four-star resort, located in the centre of Cannigione and a short distance from all the most beautiful beaches of Costa Smeralda.
Blu Hotel Laconia Village offers 160 rooms of different types, located around the park, with all the amenities of a modern resort, including a large pool and beautiful views of the nearby sea.
Sandalia Boutique Hotel - is a small luxury hotel located near the main port in Cannigione, offering 27 rooms centred around a swimming pool, with spectacular views of the bay. The hotel has a beautiful look, combining the traditional Mediterranean architecture with a sleek and modern design. 
Sporting Hotel Tanca Manna - is a four-star hotel about 300 m from the Tanca Manna beach and just 3 km north from the centre of Cannigione. The hotel offers 93 rooms, a large outdoor pool, a restaurant with a fantastic view of the coast and other amenities making it the perfect destination for families and couples.
Hotel Relais Villa Del Golfo and Spa - is a five-star resort and boutique hotel, located just a three-minute walk from the beach, offering lavish rooms and a peaceful atmosphere, perfect for a relaxing stay in Cannigione. Here you can enjoy the Harmony Wellness Center, a well-equipped spa featuring a large number of hot tubs and saunas as well as a wide range of spa treatments. 
Cannigione beaches - perfect for the whole family  
Cannigione Beach
Cannigione Beach is located close to the centre of the village, near the old harbour. Here you will find a long stretch of white sand with shallow waters, ideal for families and small children. Umbrellas and loungers are available for rent here, while nearby bars and restaurants make an all-day visit even more enjoyable.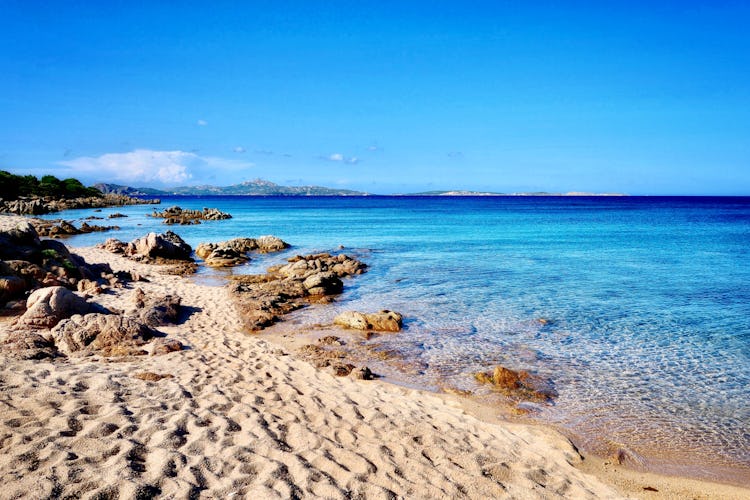 Le Piscini beach Sardinia
Tanca Manna Beach
Tanca Manna is a large sandy beach, located just north of Cannigione centre. It is yet another beach ideal for families and children as it offers shallow and calm waters. Visit the nearby kiosk if you wish to rent any beach equipment.
Mannena Beach and Barca Bruciata
The beaches of Mannena and Barca Bruciata are located further north from Cannigione and are two beautiful sandy beaches. Mannena is one of the largest beaches in the municipality of Arzachena with lots of amenities. The adjacent Punta di Barca Bruciata is a small inlet with beautiful scenery and fewer crowds.   
Ulticeddu Beach and Le Piscine beach
Continuing north towards the endpoint of the Gulf Arzachena, you will find two charming inlets and the beaches of Ulticeddu and Le Piscine. You can easily reach this part of the coast on foot via a path, and there is a large car park nearby for those arriving by car. Here you will find beautiful scenery, reminiscent of the Caribbean with fine sand and crystal clear water.
An abundance of sunshine and warm weather 
The coastal village of Cannigione, located on the northern coast of the island of Sardina enjoys a typically warm Mediterranean climate. Winters here are mild and rainy while the summers tend to get hot and are mostly dry. August is the warmest month of the year with an average temperature of 23.7 °C, while the coldest month is January with an average temperature of 9.9 °C. Canniagione enjoys around 206 dry days a year, with the most precipitation occurring during the winter. Due to its protected position in the Arzachena Gulf, the sea is calm here with small waves and almost no wind. Sea temperatures can reach up to 25 °C during the summer, making the beaches around Cannigione ideal for water activities.  
Best time to visit
The best time to visit Cannigione in Sardinia is anytime between May and October, when the weather is fair, with warm temperatures and limited rainfall. The best time to enjoy the beautiful beaches around Cannigione is during the summer but if you want to avoid the heat and the crowds, then the best time to visit this part of Sardinia is in spring or early autumn. Average temperatures in May and October are around 20 °C, perfect for sightseeing and hiking.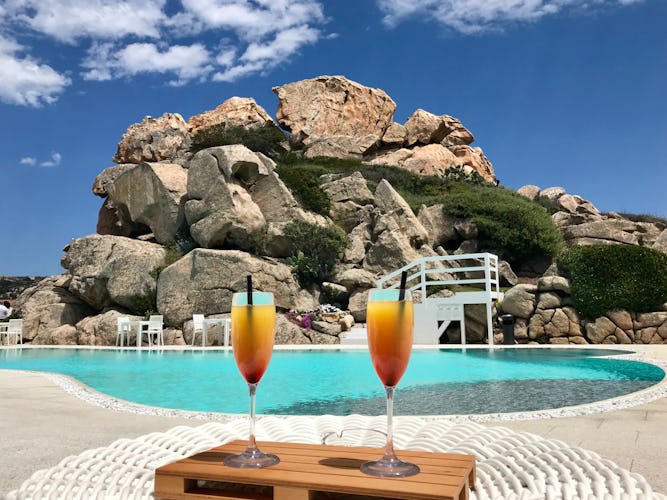 Party in Sardinia's top nightclubs
Being a popular tourist destination, Cannigione offers a wide selection of bars, cafes, restaurants and clubs providing entertainment long into the night. 
Vinyl Music Club - is located just north from the centre of Canngione, near the Tanca Manna beach with different musical themes each night, perfect for all-night dancing.
Phil beach and Ritual Club - are located west of Cannigione, past the village of Mucchi Bianchi. Here you can enjoy a wide selection of cocktails and various DJs playing dance music all night.
Azzura and Velvet night clubs - are exclusive night clubs, both located near the town of Arzachena, a couple of kilometres south of Cannigione.    
Sample delicious Sardinian cuisine 
Restaurant La Terrazza del Falco
La Terrazza del Falco is a restaurant in the village Cannigione, located near the promenade offering delicious seafood and spectacular views of the Cannigione Gulf. Guests can choose from traditional Sardinian recipes, classical Italian dishes and delicious local seafood. Dining on the terrace and enjoying the sunset is best accompanied by some exquisite local wines. 
La Sciumara Restaurant
The La Sciumara restaurant is located in the tourist village of Cannigione and is considered to be one of the most stunning restaurants in Northeast Sardinia. Guests can enjoy a menu offering a combination of seafood and local Sardinian dishes. The restaurant is located directly on a beautiful sandy beach and offers panoramic views of the sea. La Siumara is equally popular among locals and tourists, offering delicious dishes and fresh ingredients.
Acqua Marina Restaurant
This restaurant, located on a moored boat in the middle of Cannigione harbour, offers a unique atmosphere and freshly caught seafood. The restaurant was opened in 2017 and is a perfect spot for a romantic dinner, with lights glistening on the water and a good selection of Sardinian wines. 
La Vecchia Lampara
Located in the centre of Cannigione, right next to the marina, La Vecchia Lampara is a quaint restaurant with a colourful menu varying from delicious pizzas to lavish seafood delicacies. The restaurant is one of the more popular eateries in Cannigione and making reservations prior to visiting is highly recommended.  
Agriturismo La Colti
Agriturismo La Colti is an alternative to the typical coastal restaurant and a perfect example of the Sardinian cultural eating experience. The restaurant is located south of the village of Cannigione, deep in the Sardinian countryside. Situated on a large farm, the restaurant features a large outdoor courtyard furnished in the authentic Sardinian style. Guests will enjoy the romantic atmosphere and indulge in a wide selection of dishes, all prepared with fresh ingredients taken directly from the farm.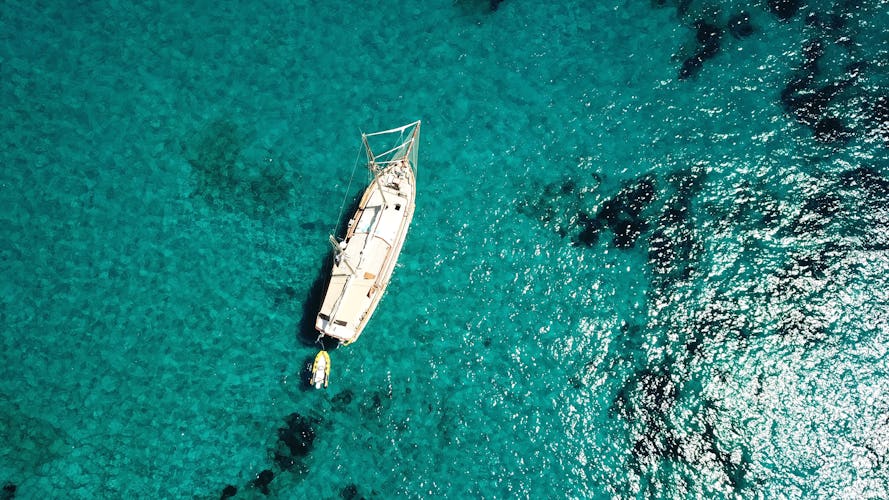 Boat in the water near Arzachena
Cannigione marinas - the sailing haven of northern Sicily
Marina di Cannigione - is located in the port of Cannigione. It offers a total of 400 berths for vessels up to 25 m with a max draught of up to 4,5 m. The marina offers moderate amenities, including power and water connection at every berth. Additionally, the Consorzio Marina Cannigione, consisting of five companies that own piers for berthing and shore facilities, have organised 34 mooring buoys in the Gulf of Arzachena. The buoys can accommodate boats up to 35 m in length and boats mooring here will enjoy good protection from the prevailing winds. 
The Cala Bitta Marina, Baja Sardinia - is located east of Cannigione, in the Gulf of Arzachena. This medium-sized marina offers 183 berths for boats up to 27 m in length. The marina is nestled in a small bay which offers good protection from the prevailing winds. Mooring here, you will find water and power connections as well as a small shipyard offering basic repairs.
Porto Cervo Marina - is one of the largest marinas in Sardinia, geographically positioned to offer protection from all winds. The marina complex consists of two parts: the East Pier, also known as the Old Port, located in the area of ​​Porto Cervo and the Marina Nuova, situated in the Marina Village. Porto Cervo Marina can accommodate a total of 700 vessels, with a maximum length of 120 m. All berths are equipped with water and electricity connections 
Let us help you plan the perfect sailing trip
Provide your travel details, receive free offer and enjoy your holiday!