Let us help you plan the perfect sailing trip
Provide your travel details, receive free offer and enjoy your holiday!
An introduction to Portisco sailing holidays
On the northeastern coast of the Italian island of Sardinia lies the fabulous Costa Smeralda. Here you will find Portisco, a small coastal village with beautiful beaches and stunning sea. Along with nearby popular tourist resorts of Porto Rotondo and Porto Cervo, Portisco has been gaining a reputation among sailing enthusiasts as one of the top destinations when visiting the Sardinian coast. Combined with the high number of marinas found in the area around Portisco, it is no wonder this part of the Sardinian coast has become one of the top sailing destinations in all of Italy.  
Portisco is a typical village, housing spectacular beaches, charming restaurants and hotels with a typical Mediterranean atmosphere, perfect for relaxing and enjoying the summer holidays.
Why you should choose a Portisco sailing holiday
Sardinia is the second-largest Mediterranean island, full of untouched nature and spectacular coastline. The village of Portisco is located 200 km north of the island's capital of Cagliari. It makes the perfect starting point to explore Sardinia's whole coast, which is equally attractive to nature lovers and culture-seeking visitors. 
Portisco is also located just 13 km north from Olbia, the fourth-largest city on the island and the transportation hub on the northern part of the island. It has an airport and a ferry connection with the Italian mainland.
Sardinia houses a wonderfully indented coast, full of peaceful coves and a crystal clear sea, which, combined with a well-developed network of marinas and anchorages, creates ideal sailing conditions.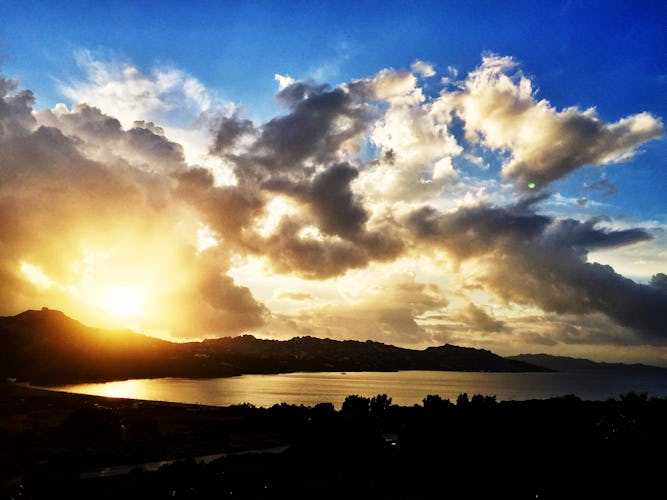 Sunset over La Sciumara beach
What weather conditions to expect in Portisco
Sardinia, located west of the Italian mainland, enjoys a typical Mediterranean climate, with plenty of sunshine and warm weather. Summers on the island are hot and dry, while winters are generally mild and rainy. 
Located on the northern coast of the island, Portisco offers ample natural protection from the elements due to its many coves and bays. Average summer temperatures regularly reach around 30 °C, with little to no rain during that period, making it ideal for a relaxing vacation. 
There are several strong winds present around Sardinia, especially from October to April when the north-western Mistral wind blows in from France. Equally, the south-eastern Sirocco wind which brings African heat to the southern parts of Sardinia.
Best time to sail in Portisco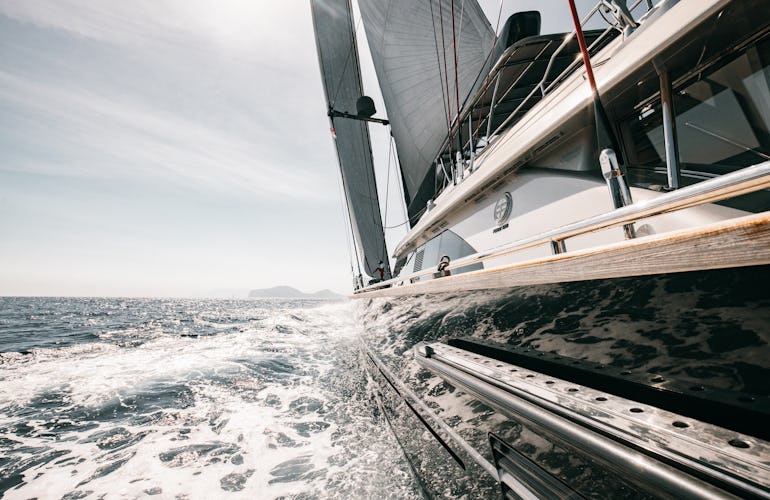 Luxury yacht sailing of Porte Cervo
Sardinia offers fine weather almost year-round. However, the best time for a Portisco sailing holiday if you are looking to avoid the heat is during May and October. You are most likely to experience good weather in that period with pleasant average temperatures sitting between 20°C and 25°C. 
On the other hand, the summer months are best suited for those looking to spend their holiday enjoying water activities like swimming, snorkelling or sunbathing.
Parts of Portisco to explore
The coastal village of Portisco sits in the large Gulf of Cugnana, one of the most beautiful locations between Porto Cervo and Porto Rotondo. Portisco itself boasts multiple hotels and luxury villas, as well as several stunning beaches.
In the western part of the Golfo di Cugnana you can find the large beach of Portisco, bordered to the north by a strip of cliffs and by the Island of Portisco. 
On the southern part, there is a well-equipped port for all kinds of boats. Residential hotels and luxury villas occupy the area surrounding the beach, offering numerous beach facilities and water-related activities. 
The coast around Portisco is, in general, dominated by rock formations and cliffs with a shallow sandy seabed, making it an ideal destination for families with children and diving and snorkelling enthusiasts. 
Marinas around Portisco to dock
Marina di Portisco
Marina di Portisco is located in the centre of Portisco, in the Gulf of Cugnana. The marina boasts the Blue Flag certificate for clean and uncontaminated waters. It is well protected by a three-arm breakwater wharf, offering 589 moorings for vessels up to 90 m in length with a draught of up to 10 m. Guests of the marina can enjoy moderate amenities including power and water connections at every berth, free wi-fi, fueling station and 24-hour security. 
Cala dei Sardi 
Cala dei Sardi is an eco-friendly floating marina in the Gulf of Cugnana between Portisco and Porto Rotondo, offering 140 berths for boats up to 60 m in length. Here you will find a combination of breakwater pontoons and Seaflex anchorages. These are systems designed by the Finnish Marinetek company that combine stability and respect for natural marine currents. 
Marina di Porto Rotondo
Marina di Porto Rotondo is located north of the town of Olbia and is a large marina offering 650 berths for vessels up to 90 m in length and a maximum draught of 5.5 m. The marina offers moderate amenities like water and electricity at every berth and is the perfect stop to explore the nearby beaches. It is one of the most popular sailing destinations when sailing the coast of Sardinia. 
Porto Cervo Marina
Porto Cervo Marina is located on the northern coast of the island and is one of the most popular and secure stops when sailing this part of the Mediterranean. 
The Porto Cervo Marina is divided into two parts: the East Pier, also known as the Old Port, and the Marina Nuova, situated in the Marina Village where you will find newly-constructed piers. 
The marina's position ensures protection from all winds and is one of Sardinia's most secure moorings. Porto Cervo Marina has a berthing capacity of 700 and can accommodate mega yachts up to 120m in length with a maximum draught of 7m.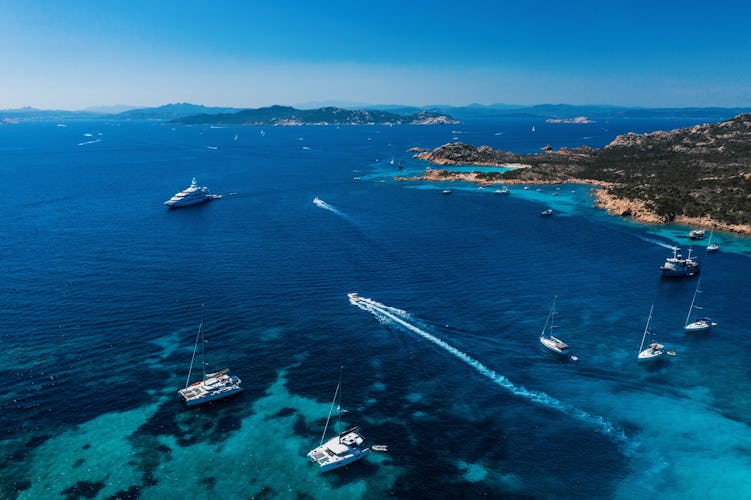 Aerial view in Sardina
Best spots to cast an anchor around Portisco
The Gulf of Cugnana offers ample anchorage spots, both north and south of Portisco Marina. Having a shallow and mostly sandy seabed,  
Casting an anchor in the Gulf is relatively easy and more importantly - secure.
North of Marina di Portisco
The area located closer to the mouth of the Gulf, north of Marina di Portisco offers adequate shelter from western winds. Here you will find good holding on a mostly sandy seabed with depths reaching up to 10 m. 
South of Marina Di Portisco
The area south of the Portisco Marina is protected from all directions except east. It is close to large marinas in Portisco and Porto Rotondo offering extensive services, shops, restaurants and water-based activities. You will find great anchorage points with depths around 3.5m right past the floating pontoon. The sandy bottom offers excellent holding and a secure anchorage. 
Keep in mind: there is a submerged power cable located between the southern coast of Marina di Portisco and the south coast of Punta Nuraghe where it is prohibited to anchor and fish. However, the area is well marked, making it easy to avoid that part of the Gulf. 
Marina di Cugnana
Marina di Cugnana is an anchorage located south of Portisco and one of the safest anchorages in Sardinia. Located deep into the Gulf of Cugnana, you will find a shallow seabed, mostly sand and excellent protection from all elements.
Keep in mind: The shallow waters, especially on the southern side of the anchorage, along with private fish farms, represent a considerable obstacle for passing boats.
Charming Portisco itinerary options
Sardinia is a large island with a long coastline, offering plenty of itinerary options for those choosing it as a sailing destination. Starting from the trendy village of Portisco, located on the famous Costa Smeralda, you will be presented with numerous options to explore and sail this stunning Mediterranean island.
A view of the Chapel of the Madonnetta in La Maddalena
Option 1- North towards La Maddalena archipelago
Total sail distance: 90 NM
Things to see and do: Sail north from Portisco towards the breathtaking Maddalena archipelago, stopping off to enjoy the charm and beauty of Sardinian coast. Amazing sand beaches, charming coastal villages and unspoiled natural beauty all await you on this route.
This route is perfect for: Easily accessible sand beaches, shallow and warm waters make Sardinia a perfect summer destination for families with children, large groups of friends or couples. Sardinia's indented coast offers plenty of protection from the elements, which will suit both beginners and more experienced sailing enthusiasts.
Best time of year for sailing: If you wish to enjoy water-based activities and beaches, summer is the perfect time to visit. Those looking to focus more on sailing should visit in spring and early autumn when there are fewer crowds, but the weather is still nice. 
Day 1: Portisco
Start your sailing journey from Portisco, a beautiful and trendy village on the popular Costa Smeralda (Emerald Coast), where you can enjoy stylish restaurants, stunning beaches and extensive amenities.   
Day 2: Porto Cervo
If you are looking for a touch of glamour, then visiting Porto Cervo is a must! This seaside resort in northern Sardinia is one of the top sailing destinations in the Mediterranean and the centre of Costa Smeralda. You will find two large and modern marinas here, as well as a plethora of accompanying services and luxury amenities. 
Day 3: Cannigione
Due west from Porto Cervo, you will find Cannigione - a sheltered harbour with excellent seafood restaurants. Located on the Caprera coast, in the very deep bay of Porto Palma Cannigione offers the best sheltered free mooring in the area. Cast your anchor here and spend a peaceful and safe night regardless of the wind.
Day 4: Palau
As you leave the bay of Porto Palma and sail north past Capo D'orso you will reach Palau. Be sure to stop and admire the Capo D'orso (Cape of the Bear) unique rock formation, a result of honeycomb weathering. The area around Palau is a beautiful oasis of lush Mediterranean vegetation, thick pine forests and crystal clear sea.   
Day 5: Maddalena
Sail from Palau to the nearby La Maddalena archipelago, a stunning cluster of islands that from part of the La Maddalena National Park. You will find the village of La Maddalena here - a traditional fishing harbour, picturesque and bustling, a perfect mooring option when exploring the island. There are several beaches on Maddalena, including Bassa Trinita and Spalmatore, as well as some ancient fortifications. 
Day 6: Caprera
The island of Caprera is connected by a causeway with Maddalena and is also a part of the La Maddalena National Park. There are several land and marine areas around the island under maximum environmental protection as there is a significant presence of endemic species across the island. The island is also known as the final residence of the famous Italian revolutionary Giuseppe Garibaldi, one of the critical figures of Italian unification in the 19th century.
Day 7: Portisco
Finish your sailing itinerary slowly making your way back to Portisco, stopping for a last taste of the unforgettable Sardinian coast at Baja Sardinia. This popular resort is home to some of the most popular and stunning beaches on the northern coast of the island, like Pevero beach or Phi beach, located in front of the Napoleonic fortress of Forte Cappellini.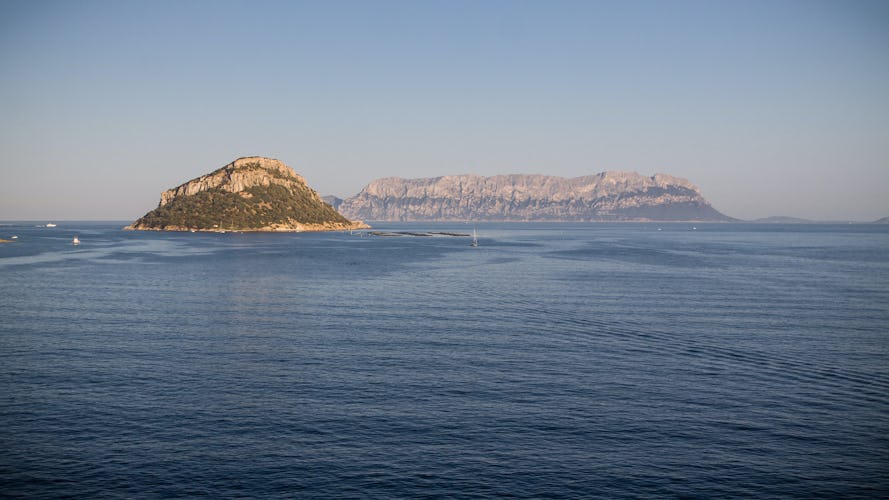 Tavolara island off the coast of Sardinia
Option 2 - South towards the port of Olbia
Total sail distance: 75 NM
Things to see and do: Set sail from Portisco southeast along the coast towards the town of Oliba. Visit the popular tourist resorts in Porto Rotondo and Marinella before you reach the town of Oliba. Along this route you will encounter numerous coves, sheltering beautiful sand and rock beaches. 
This route is perfect for: Groups of friends and families will enjoy the crystal clear sea and beautiful beaches. Popular tourist resorts like Porto Rotondo offer entertainment and fine dining for couples and large groups. 
Best time of year for sailing: From the middle of spring until the end of autumn. Summer is best for those looking to enjoy the beaches and the sea.
Day 1: Porto Rotondo
A very short sail from Portisco is Porto Rotondo - a stylish and popular coastal resort offering a large and well-protected marina. Porto Rotondo is located between the Gulf of Cugnana and the Gulf of Marinella and is considered to be the "capital" of the Costa Smeralda. Here you will find an abundance of amenities and entertainment as well as some of the best restaurants on the northern coast of Sardinia. 
Day 2: Marinella
As you continue east along the coast, you will come across Golfo di Marinella at the very edge of the Costa Smeralda. This small seaside village offers excellent infrastructure and stunning natural attractions, beautiful sandy beaches and the most inviting sea. There is also an abundance of quality seafood restaurants, charming cafes and picturesque hotels. 
Day 3: Golfo Aranci
Golfo Aranci is a former fishing village that transformed into a typical tourist resort as the popularity of the Costa Smeralda rose throughout the years. Despite its recent transformation, Golfo Aranci is still not as popular or pricey as other top destinations on Costa Smeralda and provides a great alternative to those wishing to avoid more trendy destinations. You can enjoy quality seafood here, go scuba diving and shop for souvenirs made from local coral.
Day 4: Pittulongu
Pittulongu is a small seaside town not far away from Olbia housing several long sandy beaches, perfect for a relaxing day under the sun. Families with small children will appreciate the shallow and warm sea, while those seeking a more active vacation can take on surfing and snorkelling here. Be sure to visit Spiaggia La Playa, the most popular beach in the area which can get quite crowded during the high tourist season. Anchoring is possible north of Pittulongu, in Nodu Panu where you will find a shallow and sandy seabed.
Day 5: Olbia
Taking a break from the small and charming tourist resorts and former fishing villages, Olbia is a relatively large town that offers plenty of history, culture and beautiful architecture. Be sure to visit the National Archeology Museum, housing artefacts from Phoenicians and Carthaginians, introducing you to the rich history of Sardinia. Oblia was an important port city in the Roman era with preserved remains of Roman aqueduct and baths testifying to its extensive infrastructure. You will find a large marina here with 270 berths for boats up to 80 m in length. 
Day 6: Marinella 
As you make your way back towards Portisco, stop once more at the Golfo di Marinella and explore this beautiful part of Sardinian coast even further. The beaches in the area are often the highlight for visitors, with Spiaggia de Bahas famous for water sports and diving in particular. Additionally, near Golfo Aranci you'll find Cala Sabina, a remote stretch of sand perfect for a day under the sun enjoying water-based activities.
Day 7: Portisco
Before you end your sailing journey back in Portisco, make one last stop and enjoy your remaining day at the stunning Spiaggia di Ira, just next to Porto Rotondo. 
This well-known beach bears the name of the actress Ira von Furstenberg who had a villa nearby. Located between the Gulf of Porto Rotondo and Cugnana, Ira beach is the main beach of Porto Rotondo, attracting large crowds of visitors. You will find plenty of things to do all day on this 200 m long sandy beach. Bars and restaurants are aplenty here, while those looking for some adrenaline before ending their vacation can try out windsurfing here. 
How much will a charter in Portisco cost you?
Weekly charter prices in Portisco on the island of Sardinia are similar to those in Sicily and the rest of Italy. There are several key factors to consider that can change the final charter price. Things like time of year, boat type and additional crewmen and services can significantly alter the final cost. For instance, chartering during the summer is significantly more expensive than during the off-season. Similarly, the type of boat you charter matters as sailboats are, on average, cheaper than catamarans and motorboats or yachts. Finally, If you wish to relax and completely focus on your holiday, you can hire a skipper and additional crewman who come with a price.
The starting price for chartering a sailboat for up to six people in Portisco at the end of spring is around 1,500 € per week. Approaching the months of July and August, that price can double. Starting prices for catamarans and motorboats are higher, starting from around 2,000 € per week, outside the high season. 
Those looking for complete relaxation have the option to hire a local skipper for around 150 € per day. By doing so, not only will you be able to extend your sailing experience but you will gain access to local information making sure you will always anchor at perfect spots and dine at the best local eateries.
How to reach Portisco
The coastal village of Portisco sits 200 km north of the island's capital of Cagliari, and just 13 km north from the fourth-largest town on Sardinia - Olbia. Due to the fact that Olbia is the transportation hub on the northern part of the island makes Portisco very easy to reach. The town has a small international airport as well as several ferry connections with the Italian mainland. From there, Portisco is easily reached by either land or sea.
Let us help you plan the perfect sailing trip
Provide your travel details, receive free offer and enjoy your holiday!