Let us help you plan the perfect sailing trip
Provide your travel details, receive free offer and enjoy your holiday!
An introduction to Procida
Hiding in plain sight, Procida is a small island a stone's throw away from Naples' city, slowly becoming one of the favourite vacation spots for local and foreign tourists alike. 
Procida is one of the most beautiful Italian islands, captivating visitors with its lovely combination of colours present in the local architecture and lush vegetation. 
Located in the Bay of Naples in southern Italy, Procida sits between the mainland and the bigger island of Ischia. The small island is densely populated, with around 10,000 residents living in an area that is just over four square kilometres.
Procida is volcanic in origin, most evident by observing its rocky shoreline, with several bays still reminiscent of craters. 
Despite its natural and architectural beauty, Procida is still less known than other popular tourist destinations in the area like Capri, Ischia or the Amalfi Coast. Thus, visiting the island is a much more relaxing experience than those high-profile destinations. 
Why you choose a sailing holiday in Procida?
Unlike other nearby islands like Ischia or Capri, which are more tourist orientated, Procida has an authentic feeling that can allow you to truly experience what life is like on a small Italian island. 
Due to its small size, the whole island is easily accessible, either by foot or using the local bus lines that connect all the major attractions on the island.
Starting your sailing vacation on Procida in the Gulf of Naples, you can find a large selection of popular and exciting destinations in the vicinity. 
Visiting trendy spots like Capri, Ischia, and the Amalfi Coast is only a short sail away from Procida. Those eager to explore the region's rich history will surely want to visit the nearby archaeological site at Pompei, with timeless Rome not too far away.
Many trendy island destinations, stunning coastal regions, and fascinating historical landmarks create a perfect combination for an unforgettable week of sailing.        
What weather conditions you can expect in Procida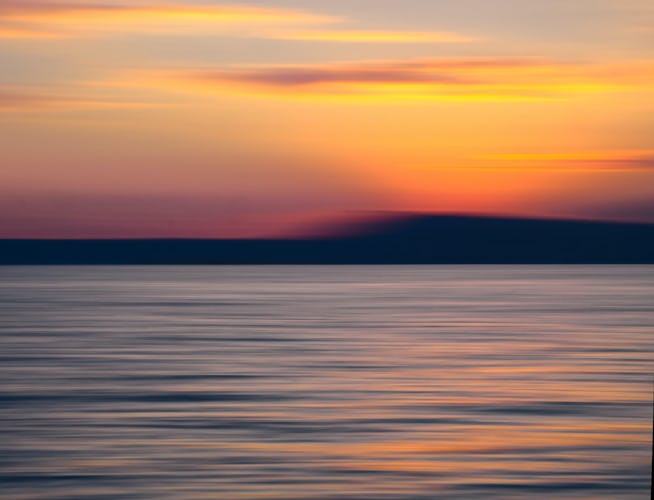 Beautiful sunset in the Gulf of Naples
Procida enjoys a typical Mediterranean climate, characteristic of southern Italy, with mild winters and hot summers. 
During the summer, the Gulf of Naples' air temperature regularly exceeds 30°C, with sea temperatures in August reaching 26°C, creating perfect conditions for a summer holiday. 
The island enjoys more than 206 sunny days each year, with most rainfall occurring during the winter. You, therefore, won't encounter too many rainy days if you visit during the summer.    
Best time to sail in Procida
The best time to sail around Procida is between May and October, when you will have warm weather and very little rainfall.
If you are looking to enjoy water activities and sunbathing, the best period for a visit is definitely during the summer, in July and August. Visiting in that period, you will be greeted by warm temperatures - varying between 25°C and 30°C with little to no rainfall.
Gentle and warm summer winds from the northwest average between 8 and 12 knots, with more southerly winds developing in the late afternoon. 
The tidal range is below 0.5m, with no significant tidal currents or wind-driven currents present in the area.
Spring and autumn sailing is also quite pleasant, more suited for those wishing to avoid the blistering heat, with plenty of sunshine and temperatures sitting around 20 °C. 
Parts of Procida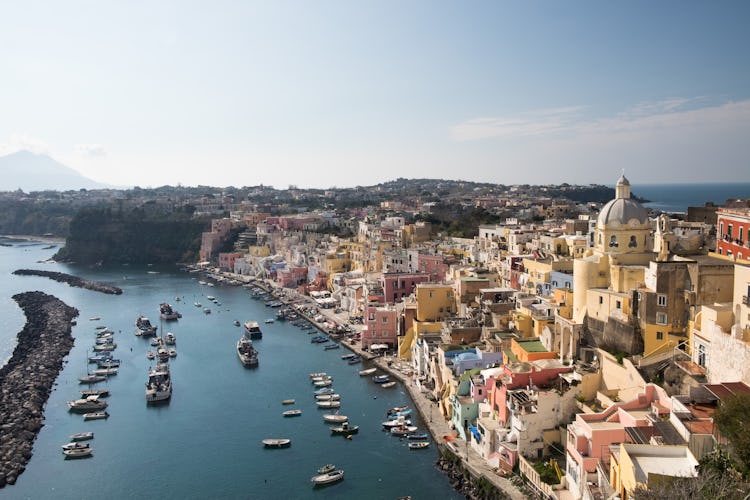 Procida Porto waterfront
Given its small size, one can easily explore this tiny Mediterranean island in a matter of days. Procida's extensive bus network enables visitors to access the most remote parts quickly. However, the most popular parts of the island, including its beaches, are best visited by boat.
Procida Porto
At the north-eastern shore of the island, you will find the central urban hub - Procida Porto. 
Here ferries dock, and small buses set off around the island's road network. The oldest settlements on the island, dating back to the ancient Greeks and Romans, can be found in this area. 
As you leave the waterfront, where the ferry port and marina are located, the settlement's inland part is filled with shops, restaurants, and cafes.
Be sure to visit the island's principal church, Santa Maria della Pietà, tucked among narrow and winding streets.
Terra Murata and the Abbazia di San Michele
Terra Murata is a fortified medieval village located at the highest point on Procida. 
Here you will find an old square with traditional houses and the 16th-century Abbey of San Michele Arcangelo.
Terra Murata means 'walled land', and here, at the top of the island, you will find superb views of the island as well as panoramic vistas towards the Gulf of Naples. 
The rest of the island is pretty built up, with residential dwellings dispersed all over the island.
On the southern end of Procida, you will find another settlement - Chiaiolella. 
A small curving islet, Vivara, sits opposite Procida's southwestern tip, where you will find a nature reserve, a perfect destination for an excursion.
Marinas around Procida
Sailing the Gulf of Napoli and visiting Procida, Ischia and Capri attract numerous sailing enthusiasts each year. 
Here are some of the most popular and best-equipped marinas on Procida, offering safe harbour:
Marina di Procida  
Marina di Procida is located on the northern coast of the island of Procida. Here you will find a large and very well protected marina offering 491 berths for vessels up to 30m in length with a max draught of 3m. You will also find water and power connections at every berth and plenty of shops and restaurants in the vicinity of the marina
Porticciolo di Chiaiolella 
This small marina is located on the southern coast of the island and can accommodate vessels up to 18m in length with a maximum draught of 5 m. The marina is protected by two breakwaters and offers WiFi, water and power connection.   
Yachting Santa Margherita di Procida 
Yachting Santa Margherita di Procida is located in Port of Chiaiolella and offers extensive amenities for 70 boats up to 35m in length with a maximum draught of 3.5m. The marina offers berthing assistance, repair services, power and electricity connections at each berth. 
Best spots to cast an anchor around Procida
Like its neighbouring islands of Ischia and Carpi, Procida offers several beautiful bays and hidden coves with plenty of perfect anchoring spots.  
Carbogno
This anchorage is located in a large bay on the island's easter shore and protects from all except south-eastern winds. 
However, keep in mind that mooring can prove tricky here due to a rocky seabed and depths that can reach up to 15m. 
Ciraccio
This anchorage on the western coast of Procida offers ideal conditions for a fun day enjoying water-based activities on the nearby sandy beaches. 
Holding is good in sand and seaweed. This spot is exposed to western winds, so plan when visiting here.
Punta Della Palombara
On the eastern shore of the nearby island of Vivara, you will find this almost circular bay. South of the pedestrian footbridge is a pleasant anchorage with depths varying from five to eight metres. 
Holding is good in sand and weed. If it is windy, be careful of the swell while there is no protection from the southern winds. 
How much will a charter in Procida cost you?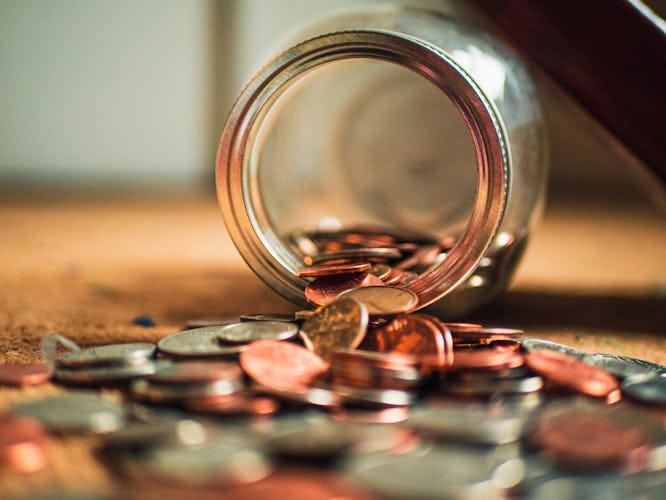 You will find lower prices in Procida compared to other nearby destinations like Ischia and Capri.
As is the case with most popular sailing destinations, there are certain things that you should consider beforehand that can significantly influence the final price.
The date of your charter, the type of boat you are chartering, and additional services can all considerably increase your final price. 
The lowest prices for a weekly charter are found outside the high season, in late spring and early autumn. 
On average, the cheapest type of boat you can charter are sailboats, followed by catamarans and motorboats and yachts.
Starting prices for chartering a sailboat in the Gulf of Naples and Procida sit around €1,500 for one week at the end of May or the beginning of June.
If you wish to charter a catamaran, which can accommodate around 8 to 10 people, prices start at around €8,000 in the pre-season.
Motorboats and yachts are usually the priciest options, as is the case in Procida, where a weekly charter costs upwards of €15,000.      
How to reach Procida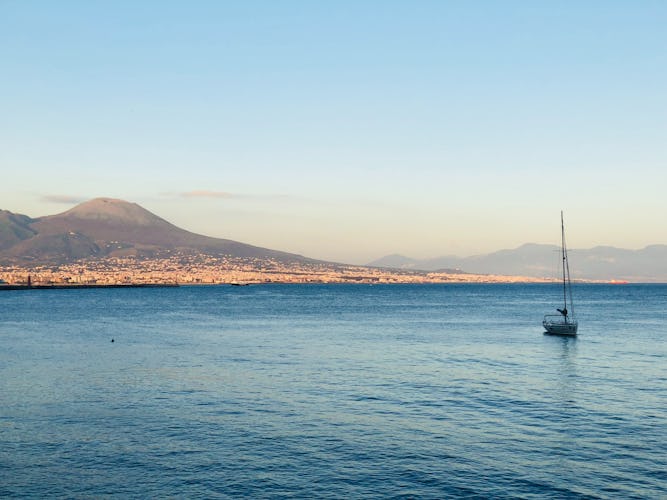 Sailing the Gulf of Naples
Procida sits only 4km from the Italian mainland and is easily reached via the nearby city of Naples.
Arriving by plane
As you touch down at Capodichino Airport, you can proceed to one of two ports in Naples, Beverello or Calata di Massa, by either taking a taxi or the bus. The bus line directly connects the airport with the two ports every 20 minutes. 
The taxi ride from the airport to the port will cost you about €20, and you should reach your destination in around 15 minutes.
Arriving by train
The Piazza Garibaldi Central Station is only 2km from the Beverello port and is easily accessible by taxi or bus. 
Bus tickets can be purchased inside the train station, with taxis eagerly waiting outside the main entrance. 
Arriving by car
Driving to Naples is easy and straightforward due to the excellent highway connection.
Navigating through Naples towards the port could be more challenging, mainly due to the local hectic driving culture.
Once you've reached the port, you can choose between taking the hydrofoil or the ferry to Procida. Hydrofoil tickets cost €15, while the ferry will cost you €10. 
Procida itinerary options
Option 1 - The Gulf of Naples & the Amalfi coast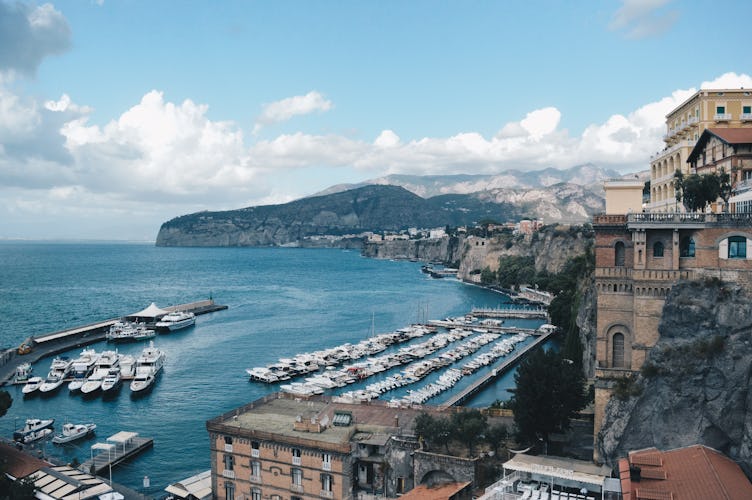 View of Sorrento harbour
Total sail distance: 85 NM
Things to see and do: Set sail from Procida to explore the beauties of the Gulf of Naples and the nearby Amalfi Coast. Visit one of the most glamorous and famous islands in Italy - Capri. Relax in the thermal baths and spas on the island of Ischia. For the culture buffs, make sure to stop at Torre Annunziata just south of Naples and visit the Pompeii archaeological landmark, nestled underneath the still-active Mount Vesuvius volcano.
This route is perfect for: Ideally suited for all kinds of groups, this route offers plenty of attractions and activities along the way. Stunning coastline and trendy island destinations will suit sailing enthusiasts perfectly, while families can spend countless hours enjoying the beautiful sandy beaches and warm sea. 
Best time of year for sailing: This route is best enjoyed during the summer when you can fully appreciate the Italian south's hospitality and the Gulf of Naples' warmth. However, if you do visit during the summer, be prepared for some crowds. The Amalfi Coast is one of Italy's more popular summer destinations, equally visited by foreign and domestic tourists. The warm climate in the south of Italy means you can still visit in late spring or early autumn and have the same experience, but with fewer crowds.
Day 1: Ischia
Take off from Procida to nearby Ischia, where you can enjoy the famous thermal baths of Ischia. 
Ischia, also known as the Emerald Island due to its luscious vegetation, is the largest and most developed island in the region. 
This beautiful island with an authentic atmosphere and stunning beaches has significantly fewer crowds than other popular destinations in the Gulf of Naples.
The Thermal baths of Ischia, a long-standing tradition and a significant attraction dating back to the Roman Empire consists of nearly 100 springs and spas scattered across the island.
Day 2: Capri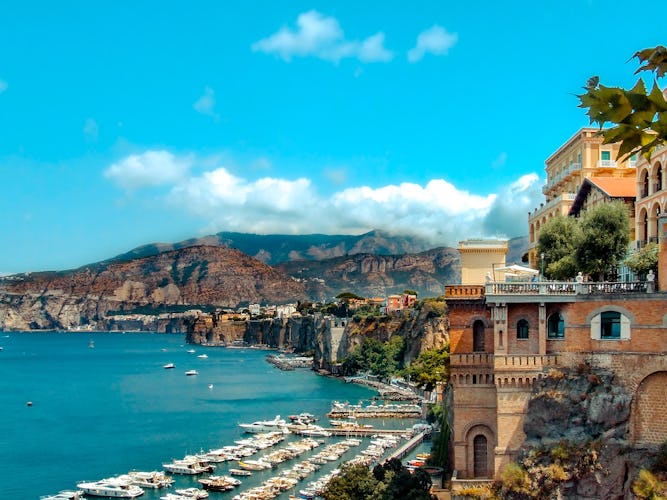 Stuning vistas on the island of Capri
Set sail southeast across the Gulf of Naples and head straight for the glamourous island of Carpi. 
The island is one of Italy's most popular jet-set destinations, evident by the sheer number of superyachts and luxury boats you will encounter here.
Docking in Marina Grande, you will be met with stunning vistas, charming cafes, shops and restaurants. 
Visiting Capri is the perfect opportunity to sample delicious cuisine, do some shopping or explore its stunning natural beauty. Capri will undoubtedly be one of the highlights on this route.    
Day 3: Amalfi
Replacing one stunning destination with another, sail from Capri towards the coastal gem that is the town of Amalfi. 
Take a stroll down winding narrow alleyways of this stunning little medieval town before relaxing on its small but beautiful sand beach. 
The Conca dei Marini marina lies in a small nearby bay and is the perfect stop for the day. 
Make sure to visit the nearby Grotta Dello Smeraldo (the Emerald Cave), a stunning natural landmark that makes for an ideal excursion. 
Day 4: Positano
On your second day exploring the Amalfi Coast, the next stop is another charming coastal town - Positano.
Here you will be greeted with a beautiful combination of lush greenery, turquoise sea and the colourful architecture of local architecture.
Ancient Roman villas tell of this coastal town's rich tourist history, while Spiaggia Grande, one of the most extensive beaches on the Amalfi Coast, is the perfect place to spend a day enjoying the sun and the sea.
Day 5: Sorrento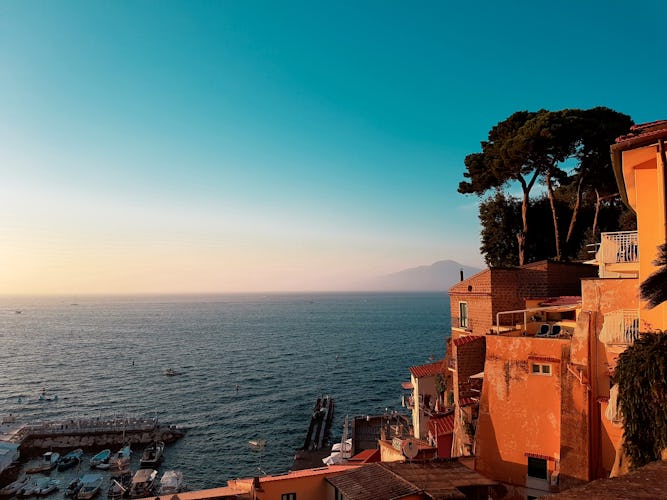 Coastal views in Sorrento
One of Italy's most famous resort towns, you will find Sorrento sitting high above the Mediterranean, offering spectacular views of the Gulf of Naples.
This colourful town, full of charming hotels, restaurants and villas, has a history of tourism spanning to the Ancient Era. Records show that the Greeks used it as a seaside resort over 2,000 years ago. 
You will also find two well-equipped marinas here, making Sorrento a favourite spot for sailing enthusiasts.
Day 6: Torre Annunziata
The penultimate stop before heading back to Procida is the small coastal town of Torre Annunziata, a south-eastern suburb of Naples, situated at the southern foot of Mount Vesuvius.
This small harbour town was twice affected by Mount Vesuvius's eruptions, famously affecting the nearby settlement at Pompeii.
Torre Annunziata, alongside Herculaneum and Pompeii, was declared a UNESCO World Heritage site in 1997. 
Besides visiting the archaeological findings, be sure to enjoy the stunning beaches here, featuring black volcanic sand.
Day 7: Procida
Before heading back across the Gulf of Naples towards Procida, you can make one last stop at another suburb of Naples - Torre del Greco. 
The town is known for its rich tradition of coral jewellery production going back to the 17th century. 
The short distance between Procida and Torre del Greco means you will have just enough time to explore a bit of this coastal town.
Option 2 - Pontine Islands & Phlegraean Fields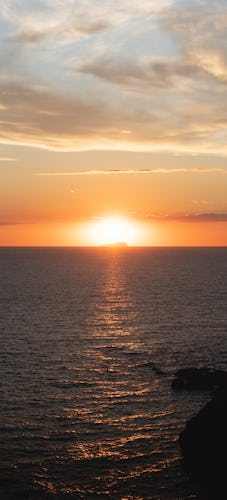 Sunset at Ventotene island
Total sail distance: 130 NM
Things to see and do: Explore the small and untouched archipelago: the Pontine Islands and the unique landscape west of Naples known as Phlegraean Fields. This route is perfect for those that enjoy prolonged spells on the water sailing. Cruise between unspoilt islands reachable only by sea, drop an anchor as you discover quiet bays, enjoy the day on pristine beaches and indulge in Italy's famous seafood.
This route is perfect for: Due to sailing on open waters, groups of friends and sailing enthusiasts will probably enjoy this route a bit more than families with children.
Best time of year for sailing: As the route takes you more towards the open Tyrrhenian sea, this route is best explored in the summer when the sailing conditions are more favourable. Given that the destinations on this route are a bit less crowded with tourists, visiting during the high season shouldn't pose a problem.
Day 1: Ischia  
Famous for its lush Mediterranean vegetation and thick pine forests, Ischia has been known for centuries as a spa retreat. 
Since the ancient era, its rejuvenating hot springs and thermal baths have been said to have the power to heal the sick. 
Today, Ischia still nurtures its proud tradition, making it an ideal place to unwind and explore this peaceful oasis. 
Moorings are available at Lacco Ameno, where you will find a small marina. The main harbour on the island is in Porto d'Ischia, while the small port of Saint' Angelo is highly recommended for its beautiful scenery but can get quite crowded on the weekends.
Day 2: Ventotene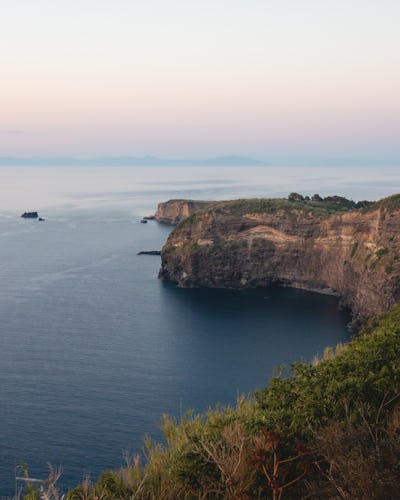 Untouched Ventotene coastline
The second day of the route will take you far out into the Gulf of Naples to the tiny island of Ventotene. 
Sail to Porto Romano on Ventotene's northeast coast. Here you can safely moor and explore the quaint little town and visit the local Museum of the Sea.
Additionally, you can sail along the island's southern and northern shores, searching for quiet bays and beaches that are aplenty.
Ventoene is also home to a diving academy, where you can take guided tours to explore the wrecks, treasures and marine life of the Ventotene Marine Reserve.
Day 3: Ponza
The largest island of the Pontine island chain and your next stop is the beautiful Ponza, located some 25 NM west of Ventotene. 
You will find two well-protected anchorages on the island: Frontone Bay on the island's eastern side and Chiaia di Luna on the western side.
Both offer perfect mooring conditions and allow you to explore the bays, beaches and spectacular geological formations Ponza is known for. One of the best things to pass the time is snorkelling in Ponza's crystal-clear waters.
Day 4: Palmarola
You will find Palmarola Island on the western end of the Pontine archipelago. 
This Mediterranean paradise, primarily uninhabited and volcanic in origin, presents its visitors with an abundance of caves, white cliffs and stunning isolated beaches. 
You will find several excellent anchorages across the island, where you can stay if the weather holds. The main anchorage, where you will find the most beautiful sandy beach, is Cala del Porto on the western coast.
However, as there are no moorings available on Palmarola, it is recommended to swing back to Ponza for an overnight stay.
Day 5: Terracina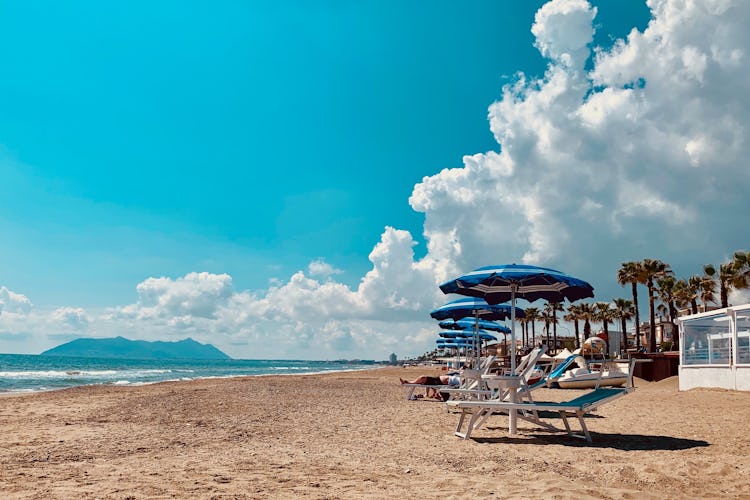 Pristine sandy beach in Terracina
As you leave the Pontine Islands behind, you should head north towards the mainland and the coastal town of Terracina. 
This pleasant seaside resort lies in the south of the Lazio region, between Rome and Naples. It was an important harbour during the Roman Empire and the site of a major temple to Jupiter. 
The town is dominated by canals, lined with boats, that connect to the well-protected harbour. 
Nowadays, it is mainly orientated towards tourism, situated along a wide sandy beach which attracts many summer visitors and sailing enthusiasts. 
Day 6: Pozzuoli
Sail south towards Procida and stop in the town of Pozzuoli, located just west of Naples.
The town is located in the middle of the Phlegrean Fields area ("Burning Fields"). This geologically active area is known for its volcanic activity, including collapsed volcanoes (calderas), steam emissions and the Solfatara dormant volcano.
Pozzuoli, along with other neighbouring towns located in the Phlegrean Fields, was declared a UNESCO World Heritage Site due to its unique geologic process. 
Besides the unique geography, Pozzuoli offers several well-preserved remains from the Roman Era, including two amphitheatres. 
The town nowadays enjoys a vibrant life that draws Neapolitans and other domestic and foreign visitors to sample its delicious seafood in local restaurants and explore this unique area. 
Day 7: Procida
Given Pozzuoli and Procida's proximity, feel free to extend your stay on the mainland until returning.
If you decide to head back early towards Procida, make sure to take a quick stop at Cape Miseno. The cape sits directly across from the island of Procida and is full of tourist attractions and a large and kid-friendly sand beach.
Let us help you plan the perfect sailing trip
Provide your travel details, receive free offer and enjoy your holiday!