Let us help you plan the perfect sailing trip
Provide your travel details, receive free offer and enjoy your holiday!
A Catamaran sailboat has become a very popular type of boat to charter, offering comfort and a laid-back experience. But if you're more interested in traditional sailing, you might want to consider a monohull sailboat. Adrenaline seekers will also have more fun sailing a monohull, especially under full sails. Read on to find out more about the difference between catamarans and monohulls.
Catamarans 
A catamaran hull is the water tight body of the boat that allows it to float. Catamarans are multi-hulled vessels, which means they combine two or more hulls, also known as pontoons. A catamaran's two-hull design offers a higher degree of stability and comfort in comparison to a monohull boat, which also helps in reducing seasickness. Catamaran sailboats are propelled by the wind, and can travel a lot faster than traditional sailing boats due to the needle-like monohulls or multihulls. A catamaran charter offers a great balance between sailing performance and comfort. 
A Catamaran yacht offers more space both on deck and inside, making it an ideal choice for larger groups. A no sail catamaran, i.e. power catamaran, often offers a grand sundeck and sky lounge with a panoramic view of the sea. It also allows easy access to the water through the stern of the catamaran, which is great for all kinds of watersports. Catamarans offer a good level of stability thanks to the two hull design.
You don't have to be a professional sailor to maneuver a catamaran. Its twin propellers and light weight make it very easy to handle. A catamaran sailboat usually has a smaller draft and is able to sail in shallow bays or closer to the beach. Another advantage of catamarans is that they have two separate engines which allow you to easily turn the boat around, and can come in handy in the unlikely event one of the engines fails. Catamaran sailing is as dangerous as sailing any type of sailboat if not handled properly, but if you're a skillful sailor or have a knowledgeable skipper onboard, sailing a catamaran is a walk in the park. 
Some monohull sailors claim that sailing a catamaran isn't an authentic sailing experience. Unlike a monohull boat, catamarans won't heel, which might be seen as a disadvantage if you're a thrill seeker. Catamarans can be difficult to anchor, and take twice as much docking space as a monohull. Although catamarans are fast when sailing downwind, monohulls can be faster sailing upwind. Catamarans are usually more expensive to buy or rent and to moor and dock than monohull sailboats, but they do offer a lot for their price.
Monohull sailboats
Monohull sailboats are the most widespread type of boats out there. An important characteristic is their stability. A monohull sailing boat is almost impossible to capsize, making it extremely safe at sea. This stability is provided by the keel and ballast. 
Sailboats are mostly equipped with one mast and two sails, but depending on the size of the sailboat can have more. The front sail can be rolled up and is called the genoa, jib, (genny jib) or rolfok. The rear sail is the main sail and can either be a conventional sail that is hoisted up the mast or a roll main sail that is rolled into the mast. 
A big pro many monohulls have compared to catamarans is that when in motion they don't pound or slap against the water. Catamarans with low bridge deck clearance from the water tend to hit and slap on the undercarriage in lumpy seas when sailing upwind. This can sometimes feel as though the boat is getting a beating.
When not using the sail, monohull sailing yachts are propelled by just one engine which can combine with a bow thruster on the front. The bow thruster is a small electric engine on the bow of the yacht that moves the bow sideways with the press of a button, making it easier to maneuver in tight spaces. 
Sailing boats range in size from the smallest with only one cabin, such as the Seascape (a sailboat commonly used for sailing courses), to medium sized sailboats with two cabins, to the largest with six cabins. The saloon is used as a dining area and common room and can also double up for sleeping. If the saloon is used for sleeping, the table folds away and combines with the bench to create a large double bed.
Catamaran vs monohull charter options 
A catamaran charter can be expensive. Prices vary depending on when and where you are chartering the catamaran, and also the age and model of the boat. There are two catamaran rental options:
A sail catamaran, propelled by sails
A power catamaran, powered by an engine. 
A power catamaran can reach higher speeds, and often offers more space than a sail catamaran. The no-sail design offers more space and a better panoramic view of the sea, with no sails to block the view.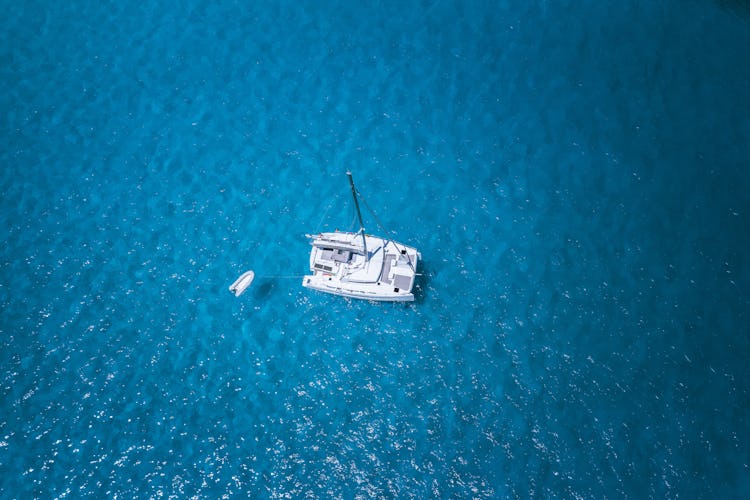 Skippered vs bareboat
A bareboat charter is a sailing boat rental that you sail by yourself, without a skipper or any crew members. You are in charge of everything, from navigation, sailing and mooring to cooking and cleaning. At least one member of your group must be an experienced sailor with a valid licence. Bareboat sailing is also the cheapest option. Bareboat charters offer the freedom to explore the sea wherever and whenever your heart desires. It's a great way to have a truly unique holiday.
If comfort and relaxation are top priorities on your vacation, you might want to consider a skippered charter. You won't need a license and your skipper will steer the boat, decide on the best route and keep you safe! Skippers are carefully chosen individuals that aren't only known for their sailing skills and experience, but also for being very knowledgeable about the area and destinations you'll be visiting. They often act as your personal local guide. On top of all that your skipper will share tips on how to become the best possible sailor. Skippered sailing charter is the best option for less experienced sailors.
Catamaran vs monohull: interiors and layouts
Catamarans have an eye-catching exterior due to their two-hull design, but are also very impressive on the inside. On the exterior they have a flybridge with a helm station, offering 360-degree views of the sea, a spacious main seating area, and an easily accessible sunbathing platform. Layouts are often open, with a well-equipped L-shaped galley connected to a dining area consisting of comfortable seating and a table. Behind the seating, there are usually glass doors that open to an aft cockpit where you can watch sunsets and sunrises. Below deck, you'll find cabins with double beds and bathrooms. All in all, a catamaran's biggest advantages are its open layout and awesome panoramic views you can enjoy from every part of the boat.
Here are your catamaran options:
3 cabin catamaran - ideal for three individuals or three couples. This cat comes with a kitchen, sitting area and a few restrooms.
4 cabin catamaran - this cat includes a sitting area, multifunctional kitchen, four bedrooms and a few restrooms.
5 cabin catamaran - this cat comes with four larger bedrooms and one smaller one. It has a bigger kitchen and a large sitting area with a nice deck where you can enjoy dinner under the stars.
6 cabin catamaran - this cat offers large bedrooms and a big deck.
7 cabin catamaran - king's catamaran offering maximum comfort for you and your crew. Comes with a fully equipped kitchen and a large beautiful deck.
8 cabin catamaran - traveling in a large group, or part of a big family? We've got you covered with the largest catamaran in our fleet, this cat is the definition of comfort and is called a 'house on water' for a reason!

Monohull interior options:
1 cabin sailboat - ideal for couples and adrenalin lovers. This sailboat wasn't built for long travels. It comes with one restroom and a small kitchen.
2 cabin sailboat - great for couples with children. Comes with a comfortable lounge area.
3 cabin sailboat - if you have two or more children, this is the perfect choice for you! Comes with two restrooms, a kitchen and a lounge area.
4 cabin sailboat - if you're spending your holiday with friends and family, this is the right choice for you. It comes with a big sitting area, two restrooms and a big kitchen.
5 cabin sailboat - big kitchen, grand sitting area and three restrooms make this sailboat ideal for larger groups.
6 cabin sailboat - king of our sailboat fleet. If you're looking for uncompromising comfort this is the sailboat for you!
Best catamaran and monohull destinations
Whether you're a seasoned sailing purist who will never abandon your loyalty to monohulls, or a catamaran fan prioritising space and stability, all sailors can agree on one thing – there's no such thing as a bad day on the water. Every experience is different from the last, and the opportunity for new adventures is infinite. There's certainly no shortage of phenomenal places to sail to, but here are a few of our favourites:
Mediterranean - the picturesque and idyllic landscape of the Mediterranean, with plenty of ports and favorable winds, attracts sailors all year round. Famous destinations are the Balearic Islands, the Amalfi coast and the Ionian Islands. 
British Virgin Islands - known as the mecca for sailing, with its numerous islands that are rich in culture. Its weather conditions make it ideal for sailing all year around.
Caribbean - warm winds, crystal clear water and the reflection of the moon on the midnight waves make the Caribbean a unique destination for sailing enthusiasts.    
In conclusion
The choice of a monohull vs catamaran comes down to a personal preference and budget. If you're traveling with a large party or you want an easy laid-back experience, catamarans are the way to go. If you're looking for an adrenaline-rushed adventure, a monohull might suit you better.
Let us help you plan the perfect sailing trip
Provide your travel details, receive free offer and enjoy your holiday!