Let us help you plan the perfect sailing trip
Provide your travel details, receive free offer and enjoy your holiday!
What types of yacht charters are there?
Essentially there are three types of yacht charters:
Bareboat - comes without a skipper or any crew
Skippered - comes with a skipper 
Crewed - comes with a skipper and a crew, who as well as helping with navigation and sailing also prepare meals and drinks for you
There are pros and cons of each type of charter, depending on what you're looking for.
A bareboat charter is the basic option when renting a sailboat. You will get a boat with all the essentials to sail it, but that's about it. You will need to prove that you are a licensed skipper, providing all the necessary certificates, documents and permits that prove you can sail on your own.
A skippered sailing holiday is ideal for less experienced sailors. Your charter company will provide you with a skipper who will steer the boat, choose the best routes to suit your requirements, and keep you safe.
A crewed charter is a great choice if you want maximum comfort and relaxation. Crewed charters tend to be more luxurious and therefore a lot more expensive.
Why choose a bareboat yacht charter?
If you have a license, and all the necessary certificates, documents and permits, you'll be able to choose a bareboat charter. If you're up for a challenge, and want excitement and adventure, a bareboat charter can be an incredible experience. You will be fully responsible for the boat, and your journey. That includes navigation, sailing, mooring, anchoring, fueling and cleaning the ship. The bareboat charter offers full freedom, and lets you take your holiday planning into your own hands. In terms of privacy, a bareboat charter offers a wonderful relaxing experience with just your travel companions. A bareboat charter is suited to destinations that provide a significant number of shelters in case of bad weather conditions. 
Why choose a skippered yacht charter?
Skippered yacht holidays are an excellent choice if you have never chartered before and eliminate the need for you to get a license. If you're not familiar with the destination you're sailing through, or if you aren't a very experienced sailor (even if you do own a license to sail a boat), you might want to consider choosing a skippered sailing charter. Your skipper isn't just a captain, but also a local expert on sights and destinations and a mentor and of mastering the sea. We're talking about an experienced individual who will keep you safe, is responsible for maneuvering the boat, understands local waters and weather conditions, but also knows the best beaches, restaurants, taverns and bars in the area. Your skipper will help you decide and choose the best possible route that will satisfy your needs, whether your priority is activities, sights or food. Having a skipper frees up a lot of your time and helps you focus on relaxing during your yacht holidays. In case of an emergency, your skipper will be the one who will make sure you get back to shore safely.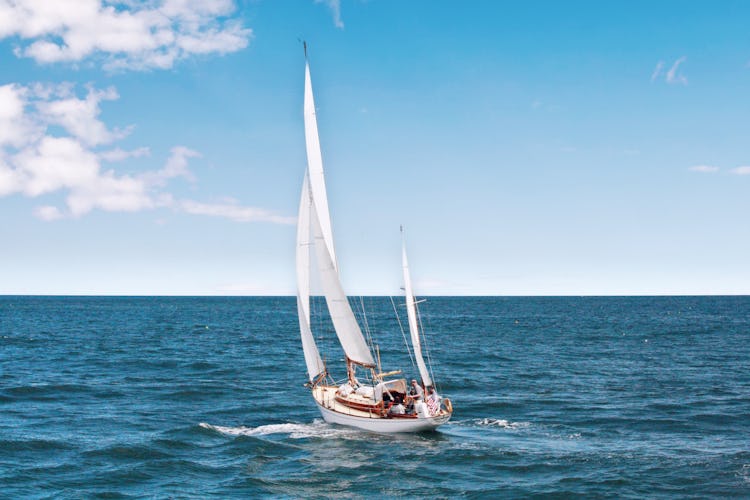 Skippered sailing yacht at sea
How does bareboat charter work?
Bareboat charter is exactly what it sounds like: you charter a bare boat, and you supply your own crew, or you are the skipper. The boat comes fully equipped, with everything necessary to sail it. You are in complete control of the itinerary, and a bareboat charter is the perfect choice if you want to have ultimate freedom. It's ideal for experienced sailors looking to explore a region, or for those returning to their favorite sailing ground. All you have to do is take the helm and go wherever you please, at your own pace. 
Owning a boat is an expensive endeavor, especially if you can't spend a lot of time at sea. A bareboat charter offers a great compromise, it gives you the freedom that you want, but excludes the hassle of the year round upkeep of the boat. Chartering also offers access to the newest boats around, so you can enjoy the best of cutting edge boat design developments. 
Because of the responsibility placed on your shoulders, in order to charter a bareboat you will need sailing experience.You will need some form of qualification or sailing license as an example of your skills on the water. In order to charter a bareboat in Europe you will need at least an International Certificate of Competence (ICC), and the rest of the world is at various stages of adopting similar legislation. All RYA qualifications from Day Skipper upwards are also acceptable, and in Croatia they expect at least one person on board to have a VHF licence too. There are numerous ways to get the desired level of qualification. If you're an experienced sailor who just needs the bit of paper, many sailing schools now offer one-day ICC assessments, covering basic route planning and boat handling skills.
When chartering a bareboat, you'll need to show your certificate upon arrival, and then you'll go through the boat briefing. The briefing will cover all the safety aspects, from flares to lifejackets. It will also be an opportunity for you to check that everything works, and ask the base team any questions you might have about the boat or your planned route. Once all this is completed and all paperwork is signed, you'll be off to your bareboat adventure!
How does skippered charter work?
Regardless of your sailing skills, yacht charter holidays are often more comfortable if a professional is on board. Your skipper will be friendly, patient, polite, tidy and neat, and will always answer your questions about the boat.
Your skipper will be at the base before you arrive to complete technical checks. Once you are all settled on board, your skipper will lead a safety briefing. In a few simple words they'll explain where life vests and fire extinguishers are, as well as safety procedures in case of emergency. 
What follows next is one of the most important parts of your first day - route planning! Your skipper will match your needs and wishes regarding sailing destinations, while considering the weather. They'll explain the current situation at sea and give you suggestions and advice if you're not completely sure where you want to go. Your skipper will also suggest the tempo and pace of sailing. If certain destinations aren't safe to travel to, your skipper will recommend alternatives. The skipper is ultimately responsible for route planning and navigation. 
Evenings are ideal for planning the next day, while the final decisions will be made in the morning before casting off to the next destination. Your skipper will usually be able to help you to get a reservation at the best restaurant or bar at your destination.
Your skipper will make sure that you're happy and safe at all times. In the case of technical failures, your skipper will fix them, if necessary with the support of the base's technical team. Even though your skipper is usually more than capable of handling most manoeuvres, you can give him a hand when needed!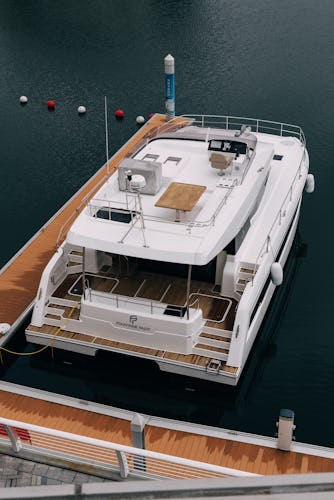 Yacht in harbour for bareboat charter
Choosing your bareboat itinerary
If you do own a license and choose to go with a bareboat charter, but you don't yet have a lot of experience at sea, make sure you consult your base crew before you set off. A good itinerary that isn't too ambitious is key for a stress free experience at sea. 
When planning your itinerary take into account the level of your experience, as well as distances and speeds at sea. You don't want to create an itinerary that's too demanding, requiring a fast pace and a busy schedule. Remember, this is your yacht holiday, you don't want stress to be the only thing you remember when you get back home.
After you have created your ideal itinerary, think about creating an alternative one in case something unpredictable happens with the weather. Make sure you check weather conditions each morning before you sail off. Also, it's best to take it day by day because you might like one destination so much that you'll want to stay an extra day, so your itinerary is really always a subject to change!
Choosing your skippered itinerary
Choosing your itinerary is one of the most important decisions of your sailing trip. A carefully planned itinerary brings with it a relaxed sailing experience. It saves you time for sightseeing, swimming, eating out or whatever else you fancy. 
You need to be realistic about your expectations and you need to take your time when working on your itinerary together with your skipper. Your skipper will be a master of your sailing area and it's always good to listen and be open to your skipper's suggestions. Your skipper will talk to you about your preferred destinations and will recommend a route that makes sense, considering the weather conditions as well as available time. Your skipper will also ask you about your preferences when it comes to food, your willingness to cook on board or where you like to eat out. You should also make a provision plan because supplies aren't always available round every corner. 
Your experience on the sea will also determine your itinerary, and the more open you are about it with your skipper, the better the itinerary that will be created. You should bear in mind speeds and distances at sea when suggesting destinations you want to visit with the time you have available. The itinerary is always subject to change due to weather conditions, which are checked every morning before your set off. 
Let us help you plan the perfect sailing trip
Provide your travel details, receive free offer and enjoy your holiday!