Let us help you plan the perfect sailing trip
Provide your travel details, receive free offer and enjoy your holiday!
How to choose the right boat for your sailing trip
After choosing yourselves the ideal sailing destination for your next vacation, it's time to decide what kind of boat you want to use for your journey. The crucial factor to consider before choosing a boat for your trip is the number of people that will be accompanying you. Some boats, like smaller motorboats, are better suited for smaller groups or couples, while larger catamarans or even gulets are perfect for larger groups. There are also several other options to consider, with each boat type having its pros and cons. If you wish to learn the sailing basics beforehand, be sure to check out our quick summary of the essential nautical terms, different parts of a boat and even learn more about the most used sailing knots. For a more in-depth comparison between different charter options, check out our comparison of monohulls and multihulls, as well as the difference between skippered and bareboat charters. At HighSails, you can choose between chartering sailboats, catamarans, motorboats and gulets. Below you can learn the basics about each boat type you can charter, which will hopefully help you with your final decision. 
Sailboat
Starting price: €1,500 per week
Best for: More experienced sailing enthusiasts and beginners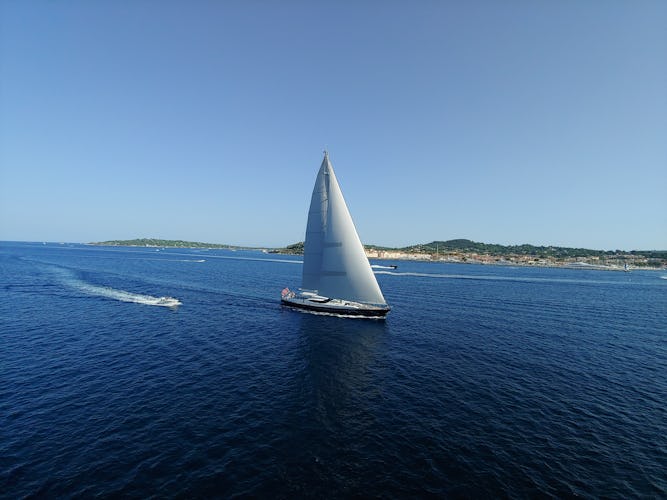 If you are looking to take it slow on your sailing vacation, soaking in as much of your surroundings as you can along the way, then a sailboat is the perfect choice for you. Designed to harness the wind efficiently, a sailboat is not only economical but also much quieter than engine-powered boats. You will still have the option of using an engine, as all modern sailboats are equipped with one, but it is primarily used for docking and manoeuvring. A traditional sailboat can usually accommodate between 6 and 12 people in several cabins, depending on their size. Sailboats offer every amenity you might need on your trip, although space below can be a little bit limited when compared to catamarans and larger motorboats.
If this is your first time on a sailboat, or you have limited experience, hiring a professional skipper is highly recommended. Not only will you be able to relax more and learn valuable things for your next sailing trip, having a local skipper guide you through your journey is the best way to explore the best spots each country has to offer. When you're island hopping in Croatia or Greece, you'll want to know what not to miss.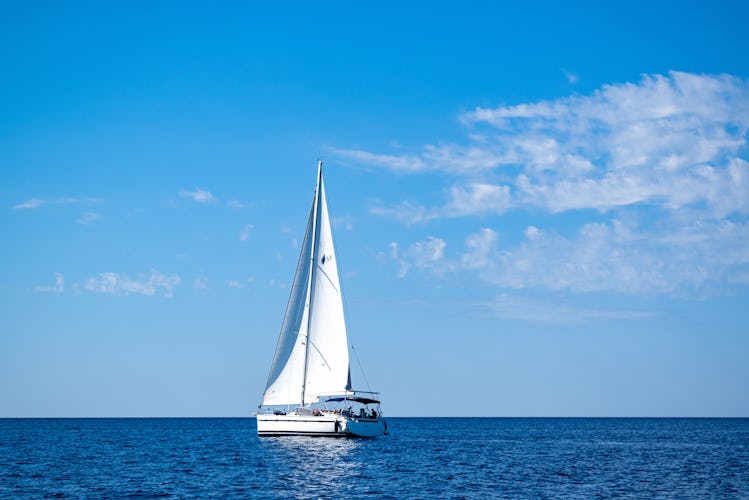 Pros: 
Cheaper - wind is free and can significantly reduce your overall costs
Quiet - wind is also silent meaning you will not have the constant noise of a diesel engine throughout your journey
Authentic - sailing a sailboat is considered more engaging as there are plenty of tasks to do each day creating a fun and authentic experience
Cons:
Cramped - due to their design and limited space, some people might find there is a lack of space below deck on smaller boats.
Active vacation - as mentioned before, sailing on a sailboat requires some work, even with a hired skipper. Of course, hiring additional crew is always an option if you wish to simply relax.
Catamaran
Starting price: €2,500 per week
Best for: Larger groups of sailing enthusiasts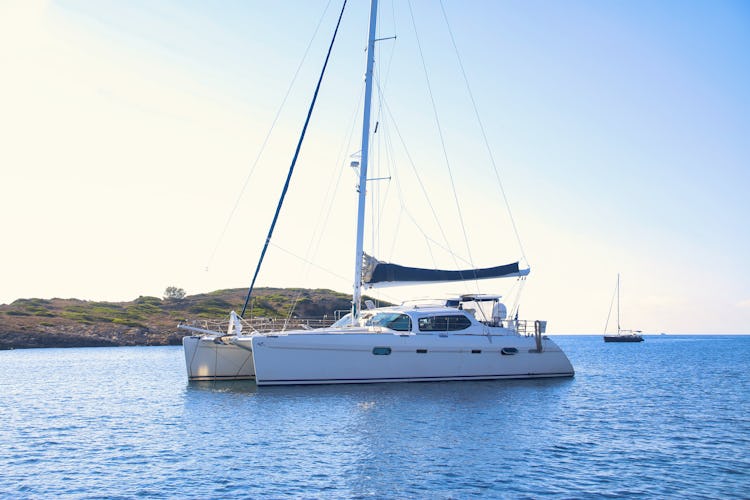 Those wanting the authentic sailing experience with a little bit more stability and space than the traditional sailboat, should consider chartering a catamaran. As opposed to the monohull - i.e. a sailboat, a catamaran is a multihull vessel that provides much more stability on open waters and can accommodate more people on average. Catamarans offer much more comfort as well with large sun decks and spacious lounge areas, ideal for bigger groups and families with kids. Larger catamarans can accommodate around 14 people across seven cabins, while smaller and medium-sized ones are ideal for groups between 8 and 12 people. Like the sailboat, a catamaran also has an engine which can be used at your convenience.
Due to its size and complexity, hiring a skipper when chartering a catamaran is recommended. Some larger models can even have an extended crew, making sure your sailing holiday goes smoothly.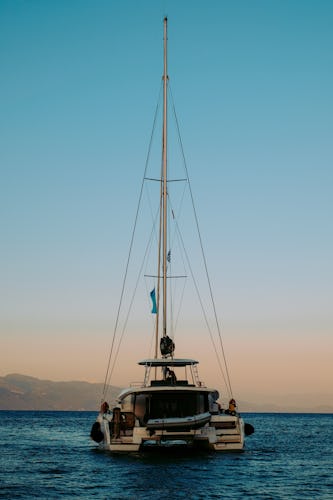 Pros: 
All the pros of the sailboat - cheap, quiet, authentic also apply to the catamaran
Spacious - due to the design, catamarans can offer significantly more room than the sailboat
Cons:
Size - Due to the size of catamarans, some smaller ports or harbours could prove tricky to access
Price - On average, catamarans are more expensive to charter
Motorboat
Starting price: €2,000 per week
Best for: Those looking to see as much as they can on their vacation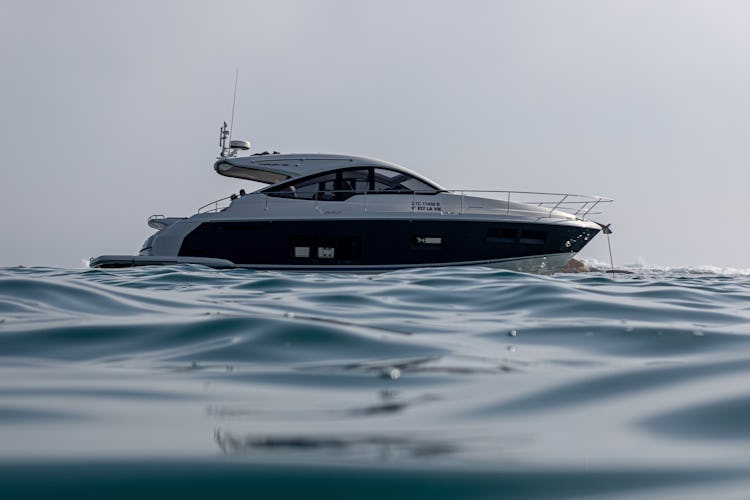 If you are looking to see as much as you can whilst on your vacation, where covering large distances in a short amount of time is a must, then a motorboat is perfect for you. Equipped with powerful engines, a motorboat will get you where you need to be fast and in comfort. This also has its disadvantages, as refuelling a motorboat is expensive and can often be time-consuming. Motorboats come in all shapes and sizes, enabling you to choose the one that perfectly suits your needs.
Smaller motorboats are much easier to operate than sailboats and catamarans, which makes hiring a skipper unnecessary if you have enough experience and the appropriate licence. However, larger and more complex motorboats are best left operated by trained professionals, leaving you with nothing to do but relax and enjoy the onboard amenities.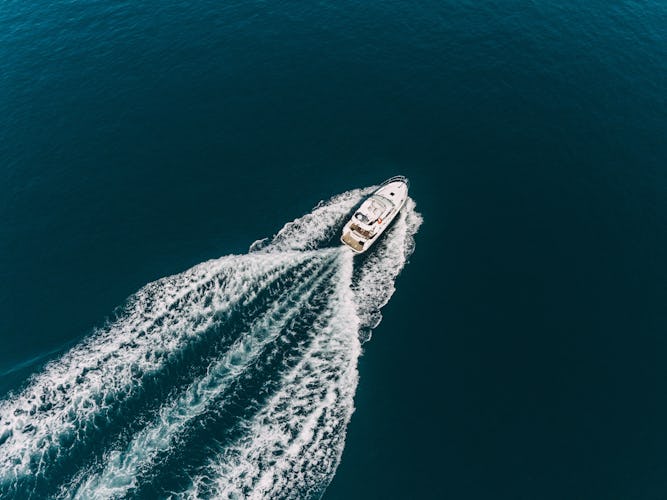 Pros:
Speed and mobility - not being dependant on weather conditions as much as sailboats or catamarans means having more flexibility and mobility on your sailing route, ultimately enabling you to see more of the county you're visiting  
Ease of use - A smaller modern-day motorboat is no different to control than a car, making it easier to operate without extensive knowledge and experience
Space - Due to the design of their hull, which is much wider than a traditional sailboat, motorboats offer much space below deck, including more spacious cabins
Cons:
Price - On average, chartering a motorboat or yacht is the most expensive option
Fuel - Motorboats consume a lot of fuel which can be both expensive and time-consuming as refuelling their large tanks can take a lot of your time
Noisy - Compared to the quiet wind power, motor boats are much noisier
Gulet
Starting price: €10,000 per week
Best for: Large groups looking for a leisurely vacation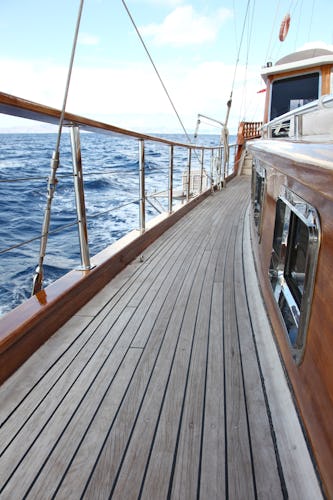 Finally, we have left the most charming charter option for last - the gulet. A traditional two-masted (sometimes three-masted) wooden sailing vessel, the gulet originates from the southwestern coast of Turkey, specifically from the coastal towns of Bodrum and Marmarisso. Although similar vessels can be found all around the Mediterranean, the gulet was created not too long ago, in the 1970s, specifically for transporting tourists along the Aegean and Mediterranean shores. Today, the gulet has become a popular choice among tourist charters, capturing attention with its traditional style and the charm of some long-gone time. The gulet can vary in its size anywhere from 14 to 35 metres and is ideal for larger groups as it offers accommodations from 8 up to 20 guests. Although they have sails, most of the gulets for charter today are operated primarily using diesel power.
Due to their size, gulets can be chartered with its standard crew included, which usually consists of a captain, a cook and a couple of deckhands. Perfect for large groups looking for a relaxing cruise around the Mediterranean.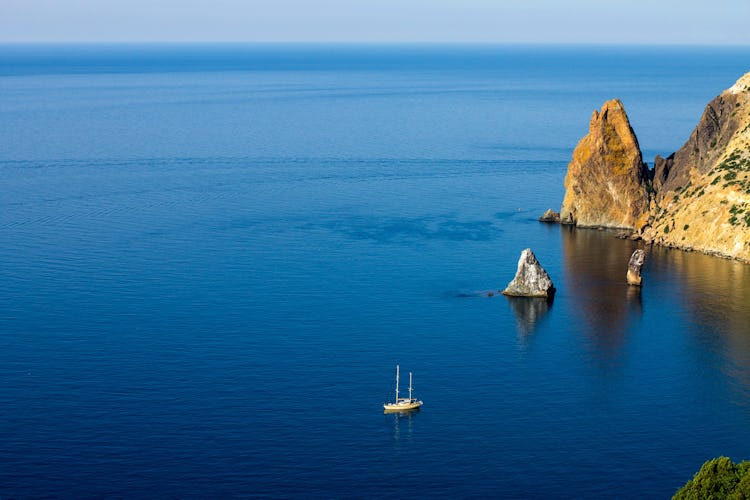 Pros:
Style - Beautifully crafted, with spacious cabins and plenty of deck space, sailing on a gulet is a truly stylish way to travel
Relaxed - there is no rush once you're aboard a gulet, life goes on at its own pace, and it is really easy to get used to it
Size - if you are planning a sailing trip for a large group of people, a gulet is the perfect choice 
Cons:
Slow - although it can chug along nicely, do not expect high speeds from a gulet. It was definitely built for comfort rather than for speed
Additional fees - the charter price of the gulet itself might not be too high, but the additional port and crew fees in some countries can be relativley high  
Let us help you plan the perfect sailing trip
Provide your travel details, receive free offer and enjoy your holiday!